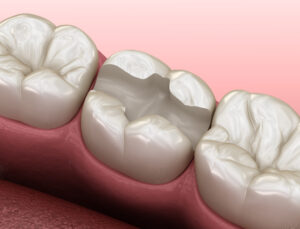 If a cavity forms on one or more of your teeth, then a restoration could prevent the onset of an infection and protect the stability of your smile. In today's blog, your Livonia, MI, dentist talks about how we offer a solution with a natural-looking and innovative dental restoration, one that stops toothaches and decay!
The Warning Signs of Tooth Decay
How do you know if your tooth needs treatment? If you attend regular checkup visits every six months, then our team will be able to identify the earliest signs of enamel erosion, offering treatment before you develop discomfort. Otherwise, you may not know until the cavity becomes severe, causing tooth sensitivity when you eat or drink, or a toothache that doesn't subside after a day. Treatment is then crucial to avoid the onset of an infection, a development that means you'll need a root canal and crown instead of just a simple dental filling.
A Composite Resin Dental Restoration
Instead of metal, our team uses composite resin to create our fillings. Being metal-free means no trace amounts of mercury, so this is safe for people of all ages. The restoration also won't expand or contract with time, reducing the chances of decay in the future. The composite resin contains a blend of glass-like and acrylic particles, which we shade to blend with the tooth and offer a lifelike appearance.
If you have a cavity, we will administer a local anesthetic to ensure you're comfortable. We next remove all decay from the tooth and then clean it thoroughly. We may also etch the surfaces. The material is then applied to the tooth, and we mold it as the composite resin cures under a light. The last step is to polish the tooth for a more attractive appearance.
Safeguarding Your Teeth
You can also take steps to help reduce the risk of cavities and infection down the road. You should make sure to start and end your day by brushing your teeth for two minutes, and using a fluoride toothpaste when you do. Flossing before bed each night is also important! Try to avoid foods and drinks rich in sugar and starch, which could feed harmful oral bacteria. Make time to see our team for a checkup and cleaning visit every six months, so we can watch for signs of trouble and remove all harmful plaque and tartar buildup. If you have any questions about our restorative treatment options, then contact our team today.
TALK TO YOUR LIVONIA/DETROIT, MI DENTIST ABOUT RESTORATIVE TREATMENT 
Our team wants to offer a solution to your cavities to ensure a healthy and beautiful smile. If you want to know more about treating a dental cavity, then please contact your Livonia, MI, dentist, Dr. Stewart, by calling (734) 425-4400.