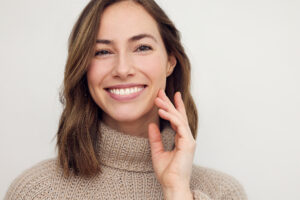 If you have been contemplating a cosmetic procedure, but also need restorative work performed, you might see the possibility of a secondary benefit! For people who receive porcelain veneers or dental implants, minor misalignment concerns might be able to be ameliorated at the same time.
Today, your Livonia, Mi dentist highlights some ways that you can stack benefits onto procedures!
It May Save Trauma
As dentists, we do not like to go into a procedure without limiting risk as much as possible. And any time we bring out our tools, we are inflicting some amount of trauma on the mouth. So ideally, the less amount of time we spend in the mouth, the safer.
That said, sometimes corrections need to be made. People crack or chip teeth due to a few different factors. Obviously the blunt force trauma of a fall or a car accident can wreak havoc on your smile. But also less explosive situations like TMJ disorder or bruxism can cause damage that is extensive enough to require restorative dentistry.
But it would be foolish to ignore the opportunity that this can provide in improving your smile! There is nothing that says that restorative work should not be beautiful, as well.
Porcelain Veneers Provide Comprehensive Help
Porcelain veneers have been one of the most amazing developments of the past 100 years. Made of sturdy ceramic, these operate like caps over existing natural teeth. They also provide for a wide amount of flexibility in terms of the cosmetic appearance.
Gaps and misalignment are easily erased through this procedure. Our highly trained ceramicists treat this as a true art form, and by adjusting the size and shape of the veneers, can do wonders. They accomplish this all while crafting a natural appearance.
These are also as sturdy as your natural teeth, and contemporary veneers are designed to last for upwards of a decade. This is a long-term solution, without the harm that readjusting teeth can bring. It is not an easy feat to shift teeth within the jawbone. And you can have these placed simply and conveniently!
Implants Can Aid, As Well
For those patients who are having dental implants placed, some similar benefits can be seen. We can scale the tooth larger or smaller depending on the needs of the mouth. This alone erases many minor cosmetic issues affecting that site, but also the area around it.
Implant posts can also protect your bone matter. When we lose a tooth, the body figures that it is gone forever, and immediately begins to prepare for life afterward. By placing the post, we trick the body into believing it's healthy. This can save your jaw!
ABOUT YOUR LIVONIA, MI, DENTIST:
James Stewart, DDS, and our compassionate staff proudly serve patients of all ages from Livonia, MI, as well as Farmington Hills, Farmington, Plymouth, Northville, Novi, Dearborn Heights, Dearborn, Garden City, Westland, Redford, and the surrounding communities. To schedule a consultation, call our office today at (734) 425-4400.