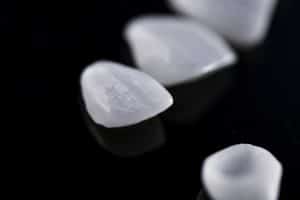 With cosmetic dentistry, your Livonia, MI, dentist has the opportunity to focus on the visible aspects of your smile, addressing everything from teeth stains to poor alignment. However, we also have a unique cosmetic restoration that can completely transform a smile's appearance in as little as two visits. How do we create and place these cosmetic restorations?
The Benefits of Our Porcelain Restorations
These incredibly thin restorations cover the front and sides of your teeth, which means we can make significant changes to your teeth's shape and color. If you have permanent teeth stains, the kind of discoloration that doesn't typically respond to teeth whitening, we can mask them. Our team can place restorations to help lengthen worn-down teeth, repair minor chips and cracks, and even close unsightly gaps between your teeth. If you have minor misalignment, we can even correct the appearance of your smile without relying on orthodontic solutions.
Creating and Placing Cosmetic Veneers
To ensure they fit comfortably and look natural, we need to first remove a thin layer of outer tooth structure. Afterward, we will take detailed impressions of your tooth, using the information we gather to design and create them. In a follow-up visit, we will place the completed veneer with a powerful bonding agent. The porcelain we create them from is durable and able to absorb serious bite forces. The material also contains stain-resistant properties and is translucent like tooth enamel. We can even shade the material to better blend with your smile. In some cases, we even perform a teeth whitening procedure to ensure your new restorations match your brightest possible smile.
Keeping Your New Smile Bright and Healthy
Remember, your veneers are attached to natural teeth, meaning the risk of cavities, infection, and gum disease is always there. With routine care, our team can help prevent discoloration and protect the teeth from poor oral health. First, make sure you always brush your teeth twice a day for two minutes, using a fluoride toothpaste and soft-bristled toothbrush. You also need to floss before going to bed as well! Make sure you visit our office every six months for a routine checkup and cleaning, so we can monitor your smile and also remove plaque to prevent discoloration and poor oral health. If you have any questions about improving smile beauty, then please contact our team today learn more.
READY FOR COSMETIC DENTISTRY?
Our team is ready to help you start the holiday season with a brighter and more attractive smile. For more information on cosmetic dentistry and other treatment options, or to schedule a consultation, call the office of James Stewart, DDS in Livonia, MI, today at (734) 425-4400.