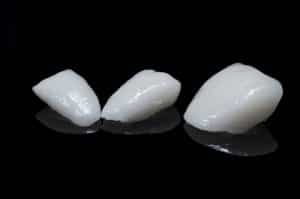 Last week, we discussed cosmetic dentistry. Today, we would like to take a closer look at one of our cosmetic procedures: Porcelain veneers. We can use them to literally transform a smile, changing the appearance of the tooth. How do veneers improve smiles? What does placing them involve?
Creating and Placing Dental Veneers
The first step is preparing the teeth. To make room for the restorations we will first need to remove a thin layer of enamel. We then take detailed impressions, which will be used at a dental lab to design and create the restorations. We use porcelain because this material can be shaded to blend with your smile. In addition, porcelain is durable and stain-resistant. When you return for the next visit, we check the fit and make any necessary adjustments to the veneer. We then place the completed restorations using a powerful bonding agent.
Esthetic Issues Our Restoration Can Address
We can use porcelain veneers to correct a number of common esthetic concerns. For example, we can mask permanent teeth stains that teeth whitening may not be able to remove. We can also close gaps between teeth and correct the appearance of minor misalignment. We often use them to reshape malformed or damaged teeth as well.
Maintaining Your New Veneers
How do you care for them? First, you should be brushing your teeth twice a day and flossing once a day. Doing so protects your restorations from plaque buildup (while also protecting your smile from tooth decay and gingivitis). You also need to schedule a dental checkup and cleaning once every six months, which allows the doctor to monitor your new veneers while also safeguarding them against gum disease and tooth decay.
Are You Interested in Transforming Your Smile?
At James Stewart, DDS, our team can employ thin, lifelike restorations to completely change the appearance of your smile. We serve patients of all ages from Livonia, MI, as well as Farmington Hills, Farmington, Plymouth, Northville, Novi, Dearborn Heights, Dearborn, Garden City, Westland, Redford, and the surrounding communities. To schedule a consultation, call our office today at (734) 425-4400.