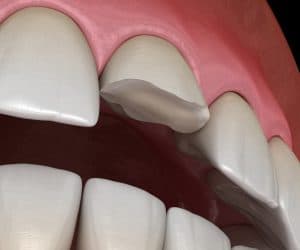 If you have a damaged tooth, even if the damage appears to be quite minor, such as a chip, you should let us know. While we're closed for preventive and cosmetic treatments, we're still available to help people in Livonia, MI with dental emergencies. Find out how we treat chipped teeth, and the steps we take to ensure our patients remain safe and healthy.
The Dangers of a Broken Tooth
When a tooth becomes broken or chipped, then the sensitive inner portions of structure could be exposed to harmful bacteria, providing an opportunity for cavities to develop or even an infection or abscess to form. Even if the damage appears minor, please give our team a call to discuss possible options. The damage is considered a dental emergency, and could benefit from a restoration to repair it and prevent serious complications.
Ensuring Your Health and Safety
Right now, our office is scheduling appointments to ensure that more than one patient isn't in the waiting room at one time. We will also be thoroughly cleaning and disinfecting commonly touched surfaces, like the waiting room, bathrooms, door handles, and more, in between each visit. Our staff is also washing hands frequently and following strict safety protocols. If you do need to come in for treatment, know that we're taking steps to ensure your health and safety!
Treatment Options
If you damage a tooth, rinse your mouth with warm water and take a pain reliever. Contact our office to schedule a visit. In the meantime, you can use a washcloth to control any bleeding, or place a cold compress or ice pack against the side of the face to prevent serious facial swelling.
When you see us, we may be able to repair minor damage in one visit with a dental bonding procedure, which uses a metal-free composite resin to restore missing structure. We can also create and place a custom-made dental crown to address more severe breaks or fractures. With treatment, you avoid cavities or infection, but if your smile does have a cavity or infection, we could place a filling or perform a root canal to preserve the health and beauty of your smile. If you have any questions about addressing dental emergencies, or if you find yourself faced with a damaged tooth, then contact our team today.
Do You Have a Dental Emergency?
If you have pain in your tooth, or have developed chips or cracks, then please let us know so we can administer treatment. For more information on our approach to emergency dental care or how you can keep your smile healthy from home, or to schedule a consultation, call the office of James Stewart, DDS in Livonia, MI, today at (734) 425-4400.