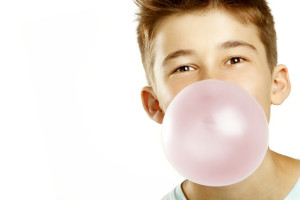 Xylitol is a100 percent natural sugar substitute derived from fruits, vegetables, mushrooms, berries, and lettuce. Your body also produces xylitol from other food sources. An average adult with a normal metabolism can produce up to 15 grams of xylitol a day. Xylitol is not a chemical like aspartame, Splenda® or sucralose, and although it may be difficult to tell the difference taste-wise, it contains 40 percent fewer calories than sugar. In today's blog, your Livonia, MI dentist, Dr. James Stewart, will discuss how xylitol can benefit your dental health.
Can Xylitol Protect Your Teeth?
Our mouths play host to thousands of bacteria. Some of these bacteria feed on the sugars in your mouth producing more bacteria.  As bacteria metabolizes sugars and other food debris, acid is produced, which eats away at your teeth causing decay. Studies have shown that chewing gum or sucking on mints that contain xylitol after eating can help protect your teeth from decay. The xylitol prevents bacteria from metabolizing and producing more bacteria, which produce more acid. Xylitol does not react chemically to the bacteria, decreasing the production of new bacteria by as much as 90 percent. After eating, this metabolic process involving bacteria, sugar, and other leftover food particles can last for more than 30 minutes. Studies show, however, that using xylitol may have a permanent effect on teeth lowering rates of decay for years after the studies were complete.
Other Benefits
Another benefit of xylitol is that it raises the pH in saliva. With a pH above 7, saliva will begin to remineralize (heal) enamel, stopping decay in its tracks with evidence of reversal. Xylitol has 75 percent fewer calories than sugar, and does not raise blood pressure. Studies have shown that it decreased ear infections by 40 percent by inhibiting bacterial growth. It also can be used as a nasal wash to help prevent upper respiratory infections.  Chewing 6 to 10 grams of xylitol per day can be effective against bacteria. Most gums containing xylitol have less than 1 gram per piece. Therefore, you must chew two pieces of gum three times a day for a minimum of 5 minutes for it to be effective.
About Dr. Stewart
James R. Stewart, Jr, DDS, PC and our compassionate staff proudly serve patients of all ages from Livonia, Farmington Hills, Plymouth, Northville, Dearborn Heights, Garden City, and all surrounding communities. If it's time for a professional cleaning, call our office today at (734) 425-4400, to schedule an appointment.