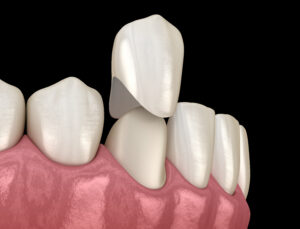 When you have an issue that needs repair, such as a chipped or decayed tooth, then a filling may not always be enough. For a more substantial repair, we could create and place custom and lifelike dental crowns. In today's blog, your Livonia, MI, dentist talks about how we offer innovative and durable restoration.
Partial Restorations
We have both full and partial restorations. The partials are for cases in which a filling is too little, but a full crown is too much. For example, injuries, worn structure from teeth grinding, or tooth decay. The inlay is one designed to fit between the cusps on the top of the tooth. While the onlay fits over the cusps. Each is custom-made for your smile, and includes the same martials we employ as part of our full restorations.
Full Crowns
A full covers the entire visible portion of the tooth, from the gum line up. We could use this to repair cracked or chipped teeth, lengthen worn down ones, or reshape malformed ones. Placement could also address severe decay, or complete a root canal for an infected tooth. They help improve our chewing ability and bite balance, and we could even use them to address missing teeth too! For example, they can secure a dental bridge in place or even restore a single tooth dental implant.
Creation and Placement
To begin, we will numb the area and then remove structure from the tooth. We then take detailed images with digital scanning technology. We use the images to create a 3D computer impression, which helps us craft your restoration with precision and accuracy. The completed version is then attached to the tooth with a powerful bonding agent, and could last for many years to come with good oral hygiene habits and regular visits to our office for checkups and cleanings. The materials we use vary. For the front-facing teeth, we could create them from ceramic. This material is translucent like natural enamel, and we can color-match it to shade it properly. For the side and rear teeth, which ensure greater bite forces and pressure, we could use zirconia or porcelain-fused-to-metal to create lifelike but strong ones.
If you have any questions about repairing your smile, whether to improve esthetics or bring relief from discomfort, then let us know. We would love to help restore your smile to optimal health, function, and beauty.
TALK TO YOUR LIVONIA/DETROIT, MI DENTIST ABOUT CUSTOM RESTORATIONS 
We want to help you enjoy good oral health and a lifelike smile again. If you want to know more about repairing your smile or even about addressing cosmetic issues or replacing missing teeth, then please contact your Livonia, MI, dentist, Dr. Stewart, by calling (734) 425-4400.