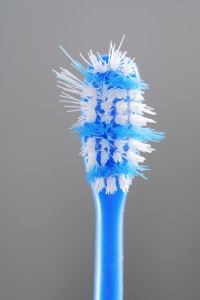 How old is your toothbrush? Have you replaced it recently? What kind of toothbrush do you buy?  Believe it or not, your toothbrush is important to your health, and not just your dental health, but your overall health. But, you probably don't give it much thought.  For instance, are your bristles worn? Is your toothbrush comfortable in your mouth? If your toothbrush is not comfortable and you are not brushing effectively then you are doing yourself a disservice. We brush our teeth not only to keep them clean and healthy, but to prevent periodontal disease. Periodontal disease affects your overall health, so it's best to keep it at bay. In today's blog,your Livonia, MI dentist, Dr. James Stewart discusses the importance of your toothbrush.
Choose an ADA Approved Brush
The American Dental Association (ADA) is the leading source of oral health information serving over 157, 000 dentists and their patients. The American Dental Association Council on Scientific Affairs is a branch of the ADA which consists of independent scientific experts who evaluate commercial dental products including toothbrushes. The ADA Seal of Acceptance assures the public that the product is safe and effective. For a toothbrush to meet the ADA guidelines the following must occur:
Bristles must be free of sharp or jagged edges and endpoints
Bristles must withstand normal use without falling out
The handle must be manufacturer-tested for durability
It must be proven that the product requires no supervision during use
The manufacturer must provide scientific evidence that the product is safe for oral use
The manufacturer must provide scientific evidence that the product effectively decreases mild gum disease
Taking Care of Your Toothbrush
Once you've chosen an ADA approved toothbrush that fitscomfortably in your mouth and is comfortable to hold, take care of it as follows:
After brushing, clean your brush thoroughly by rinsing with warm water.
Store your brush upright in the open air to dry. Bacteria thrive in dark moist places. To avoid the growth of harmful bacteria on your brush, don't keep your toothbrush covered or in a closed container for long periods of time.
If two or more brushes are stored together, do not allow them to touch. Toothbrushes should be kept apart to prevent cross contamination.
Replace your toothbrush every 3 to 4 months or sooner if bristles become worn.
About Dr. Stewart
James R. Stewart, Jr, DDS, PC and our compassionate staff proudly serve patients of all ages from Livonia, Farmington Hills, Plymouth, Northville, Dearborn Heights, Garden City, and all surrounding communities. If it's time for a professional cleaning, call our office today at (734) 425-4400, to schedule an appointment.