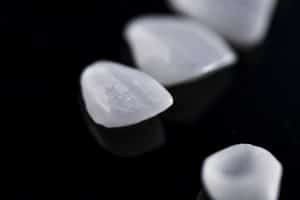 Teeth whitening removes stains, and bonding and contouring reshapes the teeth, but what if one procedure could do all of this and more? In today's blog, your Livonia, MI, dentist explains how we use custom-made porcelain veneers to transform the beauty of your smile and help you obtain stunning results in just two visits!
What is a Porcelain Veneer?
A veneer is a very thin shell of porcelain that when placed, covers the front and sides of the teeth. They instantly change the shape and color of the teeth, which allows us to not only address cosmetic issues, but also correct some minor restorative concerns as well. Creating and placing them takes about two visits, as we will explain in further detail, and they will be custom-made to ensure proper fit and that they blend with the rest of your smile.
Creating and Placing Your Cosmetic Restorations
To create them, we first remove a thin layer of enamel from the surfaces of the teeth receiving the restorations. Next, we take detailed impressions and images of the teeth. Using this information, we design and create your new veneers in a dental lab. During a follow-up visit, we will place it with a powerful bonding agent. The same material is used to keep crowns, inlays, and onlays in place, often for decades at a time. When you leave our office following the second visit, you will have a stunning new smile, one that looks natural and reflects your overall facial structure.
Benefits for Smile Beauty
We may use them to offer repairs for minor damage, such as chips and cracks. If bruxism has worn down a tooth, we can lengthen them. We also close unsightly gaps in between the teeth. Veneers mask permanent teeth stains, which typically form beneath the enamel and may be difficult to remove with professional teeth whitening. We also correct the appearance minor misalignment, which could mean a cosmetic alternative to metal braces or even aligners. If you would like to see if these are right for you, then you should contact our team for a thorough exam. If you have any questions or would like to set up a consultation, then contact our team today. We want to help you obtain the smile you've always dreamed of!
DO YOU HAVE QUESTIONS ABOUT COSMETIC DENTISTRY?
We want to help you enjoy a brighter and more attractive smile with a series of custom cosmetic restorations, transforming multiple esthetic issues at once. For more information on our approach to cosmetic dental care, or to schedule a consultation, call the office of James Stewart, DDS in Livonia, MI, today at (734) 425-4400.