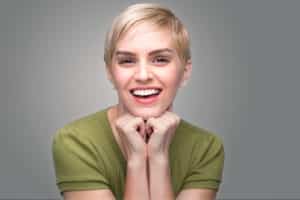 People often seek cosmetic dentistry for issues with the appearance of their smiles. While most cosmetic treatments are designed to address a single issue, some procedures can be used to correct a number of esthetic concerns. We can use veneers to completely change the appearance of the teeth. How do veneers transform smiles? Who benefits from this cosmetic treatment?
Frequently Asked Questions About Veneers
Question: Who qualifies for veneers?
Answer: We recommend them for people who want to improve the beauty of their smiles, especially if they have multiple esthetic issues with their teeth. We will examine your smile to decide which cosmetic treatment is right for you.
Question: How do they improve smiles?
Answer: These restorations are thin shells of porcelain that are placed onto the front of the teeth, completely altering the teeth's appearance. The procedure begins with preparation; we often remove a thin layer of tooth enamel before taking detailed impressions. The impressions are used to design and create the new restorations. Once complete, we place the new restorations with a powerful bonding agent.
Question: What issues can these restorations address?
Answer: We can use them to mask permanent teeth stains or close gaps between teeth. They can lengthen worn down teeth and reshape damaged or malformed teeth. We can also use them to correct the appearance of minor misalignment.
Question: How do I keep them bright and long lasting?
Answer: With routine maintenance you can keep your smile healthy and your new restorations bright. We suggest brushing your teeth twice a day and flossing once a day. You should also see the dentist once every six months for a thorough dental cleaning. If you have any questions about porcelain veneers, or any of our other cosmetic treatment options, then please contact our office today.