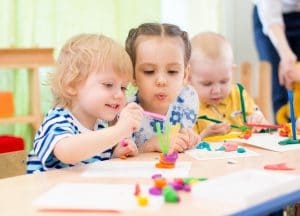 As children grow and change, they sometimes encounter issues with breathing. These problems can arise due to the growth and change of the oral tissues and the jaw. Over time, they may lead to an array of complications, such as sleep apnea and TMJ disorder. Fortunately, we can help children in Livonia, MI, with orthotropic treatment.
Sleep Apnea, TMD, and More
When the oral tissues and jaw develop issues with growth, children may experience breathing issues. In childhood, these issues may mean difficulty sleeping, exhaustion, moodiness, and behavioral issues at home and school. As they grow and enter their teen years and adulthood, these same problems increase the risk of obstructive sleep apnea, TMJ disorder, bruxism (persistent teeth grinding), and more. However, by addressing these potential problems in childhood, your little ones may avoid serious complications in childhood and as they grow older.
How Do You Correct Breathing Issues?
In order to avoid these breathing-related issues, we first need to ensure the oral tissues and jaw develop normally. In order to accomplish this, we recommend orthotropic treatment. Creating a custom-made oral appliance, the child wears it while they sleep. During the night, the oral appliances help guide the growth and development pathways of the jaw and oral tissues. Dr. Stewart has undergone specialty training in orthotropics from experts in the field, ensuring he can provide your children with quality treatment.
Does My Child Need Orthotropics?
Multiple symptoms could indicate your little one needs treatment, such as issues breathing during sleep, restlessness, snoring, nightmares, sleepwalking/talking/screaming, and difficulty waking up each morning. Lack of sleep translate into headaches, grouchiness, exhaustion, and trouble at school. If you think these issues describe your child, then give us a call to schedule a consultation.
TALK TO US TODAY ABOUT ORTHOTROPICS
We have custom-made treatment options to help children of all ages! James Stewart, DDS, and our team serve patients from Livonia, MI, as well as Farmington Hills, Farmington, Plymouth, Northville, Novi, Dearborn Heights, Dearborn, Garden City, Westland, Redford, and the surrounding communities. To schedule a consultation, call our office today at (734) 425-4400.