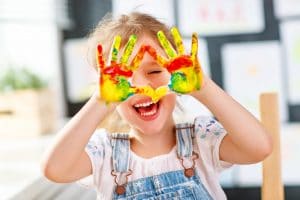 Often, serious health problems later in life, such as a sleep disorder, develop due to issues with formation of oral tissues in childhood. In order to correct these issues in childhood, we often turn to orthotropic treatment. What does orthotropic treatment involve?
Try Our Quiz on Orthotropic Solutions
True or False: There are multiple signs a child may need treatment.
True or False: Treatments can help prevent problems later in life.
True or False: We can offer a custom oral appliance.
Answer Key
True. At night, children may experience bed wetting, issues with going to bed, snoring, difficulty breathing or restlessness during sleep, teeth grinding, sleepwalking, screaming or talking while sleeping, sweating, and nightmares. During the day, warning signs can include daytime drowsiness, moodiness, headaches, learning problems, trouble waking up in the morning, and behavioral problems (such as ADD/ADHD). If one or more of these issues applies to your child, then take our Childhood Questionnaire and give us a call!
True. While orthodontics are important and can help address misalignment, only orthotropic treatment can guide the development of the oral tissues. As treatment ensures the oral structures grow and develop correctly, they can be key in preventing sleep apnea, TMJ disorder, and teeth grinding (bruxism) later in life.
True. The dentist will design and fabricate a custom-made oral appliance. The device will be worn by the child to help widen the jaw, expanding and lowering the palate. The process allows room for oral tissues to develop properly and for teeth to erupt correctly (and stay in alignment). Children also enjoy improved sleep patterns and a reduced risk of sleep disorders. If you have any questions about orthotropic treatment, then contact our team today.
DO YOU HAVE QUESTIONS?
If you have questions or think your child could benefit from orthotropic treatment, then contact our team today. James Stewart, DDS, and our team serve patients from Livonia, MI, as well as Farmington Hills, Farmington, Plymouth, Northville, Novi, Dearborn Heights, Dearborn, Garden City, Westland, Redford, and the surrounding communities. To schedule a consultation, call our office today at (734) 425-4400.