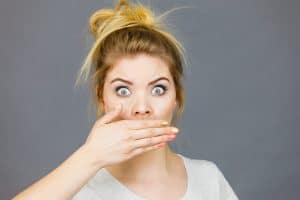 What can you do about gagging during dental hygiene, you wonder? You know that your daily brushing and flossing is extremely important, which is why you don't simply stop doing it. Without it, you will typically end up with a host of problems like cavities, gum disease, and the list keeps going. Here's the good news: Fortunately, you are not the only person who gags. You are one of many! Some people simply have a highly reactive reflex or make choices that cause this to occur. Take some advice to heart to make your experience much better.
Use A Smaller Toothbrush
If you don't want to gag, then consider the fact that the head of your toothbrush may be too large for your mouth. If it's small enough, you can easily fit it behind back teeth and throughout your mouth without coming into contact with the back of your tongue (until you're ready and prepared to clean your tongue, of course). Look for a brush in an appropriate size for extremely easy navigation during dental hygiene.
Talk With Us About Flossing Options
Is flossing a big problem for you, too? Once you've reached past your front teeth, do you immediately begin gagging? You may be a wonderful candidate for some other method of flossing, such relying on a flosser made specifically to help you reach back teeth with the use of a long-handled holder with floss stretched across. Let us help during your next appointment.
Train Yourself!
Calm down, breathe, and avert some of your attention (try listening to music). This may help you relax your reflex and become accustomed to dental hygiene. You may also begin by touching the brush to your tongue tip first, so you can adjust slowly to the presence of the brush!
Calm Gagging With Our Tips
If you need additional assistance with cleaning your smile comfortably, remember that we are all ears! Ask for help during your next visit. James Stewart, DDS, and our team serve patients from Livonia, MI, as well as Farmington Hills, Farmington, Plymouth, Northville, Novi, Dearborn Heights, Dearborn, Garden City, Westland, Redford, and the surrounding communities. To schedule a consultation, call our office today at (734) 425-4400.