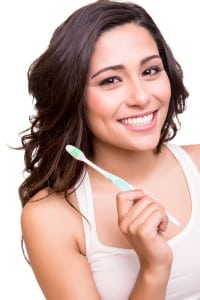 Are you sure about the toothbrush you are using? Unfortunately, patients often incorrectly assume that any brush they choose for their smiles is going to be good enough. However, paying attention to the details can actually make a huge difference when it comes to your ability to keep your teeth and gums in beautiful, healthy condition. Just remember – in addition to your daily flossing and your twice annual preventive visits with our practice, your daily brushing is key to good oral health. Find out more to determine whether you might need to buy a better brush.
How Old Is Your Brush?
You should never use a brush that you have been using for more than three months. Even if your brush looks brand new, toss it in the waste basket and start fresh if it's too old. Remember that your brush can wear down over time and harbors some amount of bacteria. Replacing your brush every three months (or when it looks run down) is your best bet for optimal oral health.
What Type Of Bristles Do You Buy?
Now you know how often to purchase a new brush – let's move onto the bristles. When you search through the different toothbrush options, you will notice they are marked according to the firmness of their bristles. Let go of the argument that firmer bristles mean more cleaning power – it's often too powerful and results in damage. Choose soft – always.
Do You Use Manual Or Electric?
You may choose either manual or electric. Manual will provide you with effective dental hygiene and is much more budget friendly. An electric brush is often easier to hold and provides you with more strokes per second. This is completely up to you – do not feel like you must spend extra money to achieve a healthy grin.
Is Your Brush Comfortable To Use?
Can you hold your brush comfortably in your hand? Can you reach back teeth with it, or is the head of the brush simply too large? Perhaps the head is so little you think you're missing spots. Choose a brush that seems to fit your needs to best protect your oral health.