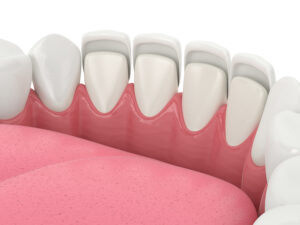 If you have multiple problems with the appearance of your smile, then you could assume several treatments could be necessary to eliminate these flaws. But with porcelain veneers, your Livonia, MI, dentist can actually address several issues at once, and often in as little as two visits! 
Crafting Custom Restorations
Each veneer is custom-made, as every smile is unique and will need a uniquely crafted restoration. To begin, we will perform an initial examination of your smile. We want to understand the causes and extent of your discoloration and other esthetic issues. We then administer a local numbing agent and gently remove a thin layer of enamel from the outside of the tooth, which makes room for the veneer. We take detailed measurements and impressions of the tooth with digital technology, which we then use in a dental lab to design and craft the veneer. The porcelain we use is strong and durable, but translucent like enamel. We can also shade it to blend with the rest of your smile seamlessly! 
Placement and Care
When your restoration is ready, you will return to the office so we can check the fit and if necessary, make final adjustments to them. We secure them with a powerful bonding agent, the same used for crowns, which ensures they can stay in place for decades to come with proper care and attention. To keep them bright and protect the teeth we've attached them to, you should brush and floss daily, cut back on sugary foods and drinks, avoid tobacco products, and of course, see us every six months for a checkup and cleaning visit. 
Benefits for Your Smile
When we place your porcelain veneers, you instantly mask the permanent teeth stains that may not respond to most teeth whitening procedures. We can also correct the appearance of misalignment to avoid the need for braces or aligners to correct uneven teeth. Placement could fill embarrassing gaps between your teeth, and also add length to teeth worn down by bruxism. We could also repair minor chips and cracks, and reshape malformed teeth as well. Which is why this is essentially a complete smile makeover in only two visits for many patients. If you have any questions about our porcelain veneers, or about our other cosmetic treatment options, then contact our team today to learn more! We would love to help you start 2022 with a more attractive smile! 
TALK TO YOUR LIVONIA/DETROIT, MI DENTIST ABOUT COSMETIC DENTISTRY
In just two visits we can use this treatment to improve the overall beauty of your smile. If you want to know more about our lifelike cosmetic treatment options, please contact your Livonia, MI, dentist, Dr. Stewart, by calling (734) 425-4400.