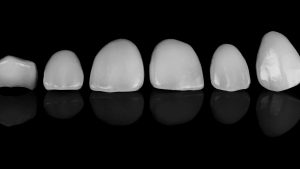 Our porcelain veneers are a custom restoration that covers the fronts and sides of your teeth. When in place, this helps improve the beauty of your smile, instantly masking multiple esthetic issues. In today's blog, your Livonia, MI, dentist will explain how we transform smiles with them, and how we design and craft each one.
Creating Your Custom Porcelain Veneers
Each one is custom-made, as this not only ensures a lifelike appearance but also promotes better bite balance and allows them to remain in place for years to come. We begin by administering a local anesthetic to ensure you feel comfortable. Next, we remove a thin layer of enamel from the tooth. Afterward, we take detailed impressions and images with digital scanning technology, which we use in a lab setting to design and craft the veneers from porcelain. We use porcelain because the material is strain-resistant and translucent like tooth enamel. We color-match it to blend with your smile!
Placement
When the restorations are finally ready, you return to the office. We check the fit and if needed, will make a few minor adjustments. The veneers will then be attached to the teeth with a powerful bonding agent. With proper care and attention, such as daily brushing and flossing, and visits for checkups and cleanings, your restorations have the potential to last for many years to come, possibly a lifetime! These actions help keep them bright, and protect the teeth we've attached them to from the impacts of tooth decay, infection, and gum disease.
Esthetic Benefits
Since they cover the front and sides of the teeth, they have the potential to instantly transform the appearance of your smile. We could use them to mask permanent teeth stains, the intrinsic type that form beneath the enamel and may resist teeth whitening treatments. Placement could also close gap and black triangle spaces between the teeth. Porcelain veneers help repair minor chips and cracks, and also reshape malformed teeth too. They help lengthen worn down teeth too! We could also combine them with cosmetic treatments, such as whitening, bonding, and contouring, for a complete smile makeover. If you have any questions about how we approach cosmetic dentistry, or if you would like to schedule a consultation to see which treatments will be right for your smile, then please contact our team today to learn more.
DO YOU HAVE QUESTIONS ABOUT COSMETIC DENTISTRY?
Our team wants to help you enjoy a stunning new smile with our custom restorations, so you always feel proud and confident to smile. For more information on how we use cosmetic restorations to brighten smiles and reshape teeth, then call the office of James Stewart, DDS in Livonia, MI, today at (734) 425-4400.