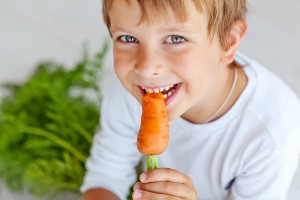 Remember when you were a child, how much you loved candy, ice cream, and soda? The same goes for your kids, right? One of their baby teeth must've been a sweet tooth. Your parents probably told you back then that you were going to rot your teeth, and they were right. All of that sugar does encourage tooth decay. If you want your children to eat for healthy teeth, stock your refrigerator and cupboards with healthy foods and snacks. If you have questions regarding healthy foods and tooth health, your Livonia, MI dentist, Dr. James Stewart will be happy to explain the effect eating healthy has on your children's teeth.
Foods such as fruits and vegetables are not only good for your children's health, they are healthier for their teeth. This summer rather than hand your kids an ice pop, or ice cream snack, stock up on fresh fruits and veggies, snacks high in calcium, vitamin D, and protein. Here are a few suggestions:
Carrots
Broccoli
Cauliflower
Yogurt
Apples
Bananas
Oranges
Peaches
Plums
Green Beans
Hardboiled Eggs
Nuts
Cottage cheese
Creative food ideas make snack time fun for kids of all ages:
Toothpick kebobs: Stab a piece of cheese, a grape tomato, and a slice of turkey or ham for a healthy kebob snack. You can also stab cheese, with a grape for an interesting flavor combination.
Add sunflower seeds, nuts, honey, or granola to yogurt. Or add a mixture of fresh berries.
Apple slices with peanut butter, or banana slices with peanut butter.
Kale is full of fiber and vitamin K, and is easy to transform into a tasty snack, just toss in olive oil and salt, and bake in the oven until crispy.
Lunch and dinner are also opportunities to offer your children meals high in protein, vitamin D, calcium, whole grains, and other vitamins and minerals.
Protein: Egg whites, beans, tofu, green leafy vegetables
Vitamin D: Milk, egg yolks,  soy milk, tuna and other fish
Grains: Whole wheat breads and pastas
About Dr. Stewart
James R. Stewart, Jr, DDS, PC and our compassionate staff proudly serve patients of all ages from Livonia, Farmington Hills, Plymouth, Northville, Dearborn Heights, Garden City, and all surrounding communities. To schedule an appointment, call our office today at (734) 425-4400.