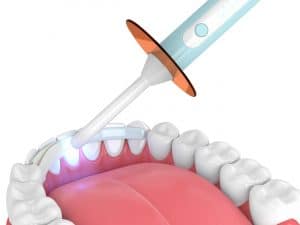 Our office will finally be open for treatment on May 29th for non-essential services! This means we can offer more than emergency care, including cosmetic dentistry. In today's blog, your Livonia, MI, dentist is looking at how we use our cosmetic treatments to improve the health and beauty of your smile, sometimes in only one visit!
Teeth Whitening
First, let's talk about teeth whitening. A bright smile can be a source of confidence, and help people feel eager to show off their smile when they smile or laugh. To remove stains and brighten teeth by several shades, while also preventing tooth sensitivity, we may suggest a home-based teeth whitening option. We start by creating a set of custom-made trays and then sending you home with the trays and a bleaching gel. You will fill the trays with gel and wear them for about 30 to 45 minutes each day. After one to two weeks, you could see optimal results! You then keep the trays and any remaining gel for touch-ups down the road.
Bonding and Contouring
To repair damage and reshape the teeth, we may offer bonding and contouring in a single visit. Dental bonding uses a lifelike composite resin to repair minor chips and cracks, mask permanent teeth stains, lengthen worn down teeth, and even close gaps between the teeth. Contouring takes a different approach, changing the shape of overly-large or misshapen teeth by buffing and sanding away outer structure. We can also dull overly sharp or pointed portions and remove any embarrassing pits or grooves in the outer surfaces.
Porcelain Veneers
With porcelain veneers, we use a thin shell of porcelain to instantly change the appearance of your smile, offering a complete makeover in as little as one to two visits. We start by removing the outer enamel and taking detailed impression, using the information to create a cosmetic restoration. We then place it with a bonding agent. A veneer masks teeth stains, reshapes damaged portions, and addresses naturally-occurring issues with the shape. We also close gaps between teeth and correct the appearance of the misalignment, ensuring a more attractive smile. In fact, the porcelain can be shaded to match the color of the surrounding teeth, blending with your smile completely!
If you're ready to obtain a stunning new smile in time for summer, then contact our team to today. We want to help you address your smile concerns and gain a new confidence!
DO YOU HAVE QUESTIONS ABOUT COSMETIC DENTISTRY?
Our team would like to help you enjoy a bright and more attractive smile in as little as one visit. For more information on cosmetic dental care, or to schedule a consultation, call the office of James Stewart, DDS in Livonia, MI, today at (734) 425-4400.