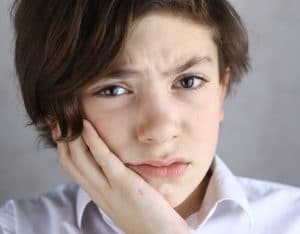 For children, brief periods of teeth grinding are not unusual. However, if this issue is persistent, and if your child also experiences issues with sleep (trouble waking, daytime drowsiness, sleepwalking or talking) then you may need to talk about orthotropic treatment. In today's blog we're answering questions about orthotropics for our patients in Livonia, MI.
Frequently Asked Questions About Teeth Grinding and Orthotropics
Question: Is teeth grinding a sign of trouble?
Answer: Persistent teeth grinding is often a sign of an oral health issue. For some children, issues with the growth and development of the jaw and oral structures can lead to major complications, impacting the alignment of the teeth and bite, the ability to sleep, and other systemic health issues. If your child experiences teeth grinding, discomfort in the mouth, or trouble sleeping, call us for a diagnosis.
Question: Will my child need orthodontics?
Answer: We recommend orthodontics to address the alignment of the teeth. However, if the child's problems stem from the growth and development of the child's mouth, then we may recommend orthotropic treatment. Orthotropic treatment expands the dental arches and makes room for the teeth to erupt, the tongue to move, and for oral tissues to form properly. In order to see if your child may benefit from treatment, try taking our Child Sleep Health Questionnaire.
Question: How does treatment work?
Answer: First, the dentist will carefully exam and assess the child's facial structures and oral tissues. After evaluating the bite, alignment, and air passages, the dentist can recommend a customized oral appliance. Worn throughout the night, the oral appliance widen and lower the palate to improve the growth and development of your child's mouth and jawbone structures. Treatment can not only reduce the risk of sleep apnea and other issues, but often prevent the need for orthodontics later in life.
Do You Have Questions About Orthotropics?
Our team can help guide the development of your child's oral structures. James Stewart, DDS, and our team serve patients from Livonia, MI, as well as Farmington Hills, Farmington, Plymouth, Northville, Novi, Dearborn Heights, Dearborn, Garden City, Westland, Redford, and the surrounding communities. To schedule a consultation, call our office today at (734) 425-4400.