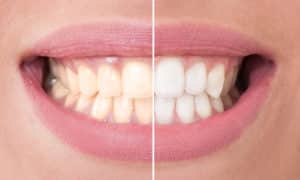 We use cosmetic dentistry to help improve the shape and shade of the teeth, addressing common problems with the appearance of your smile. Doing so can help you feel more confident and in some cases, even improve the health of your smile and help avoid common oral health concerns. What cosmetic procedures do we offer? Which ones will help your smile?
Try Our Cosmetic Dentistry Quiz
True or False: We can use cosmetic procedures to brighten your teeth.
True or False: We can perform procedures to reshape the teeth.
True or False: We will examine your smile to see what procedures you need.
True or False: You can take steps to keep your smile healthy and beautiful.
Answer Key
True. We offer two different teeth whitening options, both can be used from the comfort of your own home. While both use trays and a bleaching gel to remove stains in about a week to ten days, one designed to reduce sensitivity and the other to address more serious forms of discoloration. We will examine your smile to see which form fits you best.
True. If a tooth is damaged, or simply malformed naturally, then you may need cosmic dentistry. We can use dental bonding and contouring to reshape a tooth in a single visit. We can also place a lifelike and custom-made restoration onto the surface of your teeth, known as a veneer.
True. We will discuss your smile goals and then carefully examine your teeth, gums, and jaw. From there, we can decide which procedure or procedures will be necessary to improve your smile's esthetics. If necessary, we can also recommend restorative procedures or discuss prevent options to keep your smile bright.
True. After your treatment, you should take good care of your smile to help your new results last. First, simply maintain good oral hygiene by brushing and flossing daily. We also suggest seeing your dentist once every six months for a thorough checkup and cleaning.