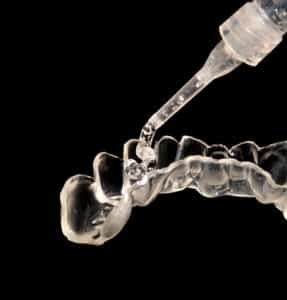 We understand that the beauty of your smile is important. Your smile's appearance can impact your levels of self-confidence and help you make a positive first impression. If you have issues with the color of your teeth, then you may benefit from cosmetic treatments, such as teeth whitening. Do you have questions about teeth whitening?
Frequently Asked Questions About Teeth Whitening
Question: What whitening procedures do you offer?
Answer: We actually offer two different options. The option we choose will depend on a number of different factors, including the cause of your discoloration and the severity of your teeth stains.  If you have discoloration that won't respond to either procedure, we may suggest porcelain veneers to mask your embarrassing stains.
Question: How does treatment work?
Answer: The Opalescence Teeth Whitening system uses trays, bleaching gel, and desensitizers, removing stains from your teeth without causing major sensitivity. We can also use the KoR Whitening system, which combines in-office and at-home techniques to combat regular teeth stains and even the more serious forms of discoloration, such as those caused by tetracycline.
Question: Why do stains form on our teeth?
Answer: Smoking, foods high in sugar, foods with staining agents, and drinks with dark pigments are all common causes of discoloration. Other factors may include injury to the teeth, tetracycline use, or fluorosis.
Question: How do I avoid future teeth stains?
Answer: To protect your smile and reduce the severity of future stains, we suggest taking better care of your smile from home. You should brush your teeth twice a day and floss at least once a day. You should have your teeth cleaned twice a year and avoid using tobacco products. Finally, cut back on foods and drinks high in sugar and other starches. You should also reduce your consumption of coffee, red wine, soda, or tea.