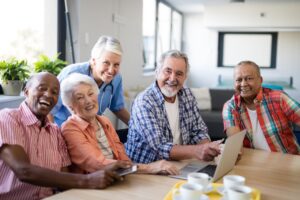 We offer care for kids and adults, and understand that at each stage of our life we need to offer a unique approach to dental treatment. But we also offer dental care for seniors too! In today's blog, your Livonia, MI, dentist talks about how we offer dental care for older patients, helping them enjoy strong, whole, and healthy smiles for years to come.
Your First Exam
Whether you regularly see the dentist, or haven't in a number of years, we will start with an initial dental exam so we can understand the current state of your oral health, and we can discuss your oral hygiene routine. We know that as seniors, you need unique care, which is why we have oral sedation to ensure a comfortable experience when you undergo treatment, and we offer less invasive procedures when possible, which means a fast recovery time in most cases. Our team also wants to make sure you're well informed about your oral health issues or treatments, and use education tools like our Orasphere videos to carefully explain these factors without relying on jargon or padded running times. We know that sometimes medications can be the source of discoloration and poor oral health, and we can help safeguard your smile while you take these necessary medications.
Gum Disease
Gum disease is often a major factor behind tooth loss in our senior years, and could cause discomfort as well. We have treatments to help manage this concern, so you continue to enjoy a smile filled with natural teeth! We can also recommend good at home health habits to protect your smile.
Tooth Loss
If you have missing teeth, we can construct custom dentures that look great and fit comfortably, and we can monitor them to ensure they provide years of quality tooth replacement. For more secure and long-lasting options, we could also discuss mini-implants and All-on-4®, which provides replacement for people even if they have lost jawbone tissue due to tooth loss.
Dry Mouth
Dry mouth is often a factor that our older patients must deal with, which is why we offer tips for promoting good saliva production, and provide restorative care to help treat cavities that may develop as a result. We also have treatments for periodontal disease, as gum disease is often a factor following dry mouth.
If you have any questions about how to care for your smile, or if you have aching teeth, gum disease, or limited dexterity to properly care for your smile, then let us know! We have experience in assisting seniors with their oral health, and are ready to see you before the year comes to an end. We would love to help you start 2022 with a healthier and stronger smile!
DO YOU HAVE QUESTIONS ABOUT CARE FOR SENIORS?
We want to help people of all ages enjoy good oral health for years to come. For more information on how we address poor oral health in our senior patients, then call the office of James Stewart, DDS in Livonia, MI, today at (734) 425-4400. You can also visit our office at 15873 Middlebelt Rd Suite 100 Livonia, MI 48151.