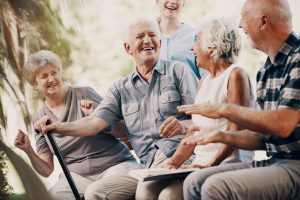 At every stage of life, we need specific treatment options to prevent oral health issue and preserve the stability of your smile. This is true for people in their senior years. In today's blog, your Livonia, MI, dentist will explain how we provide quality care for the specific needs of our older patients.
Education and Comfort
Once we reach senior age, our smiles will need care to address specific issues that come with age. We know how to offer these treatments, and how to do so with compassion and patience. We take the opportunity to help educate our patients on their oral care, and how to better protect smiles from home, including how to brush and floss with limited mobility. We also take the time to carefully explain any necessary procedures, and answer any questions they may have. To ensure all treatments are comfortable, and offer dental sedation that takes their current medical records into account. Our team also opts for less invasive procedures whenever possible too!
Dry Mouth
Often, certain medications and illnesses could lead to dry mouth, a major factor in tooth decay, stained teeth, and periodontal disease. When people use candies to stimulate saliva production, this could in turn continue to harm oral health, just as lack of saliva allows harmful oral bacteria to flourish. We can help with tips like chewing sugar-free gum, staying hydrated, improving eating habits, and also using fluoride toothpastes and special rinses.
Gum Disease
Periodontitis is common in older patients, and could lead to tooth loss and discomfort. We can offer routine care to keep plaque and tartar at bay, and to help manage the issue to ensure an attractive and whole smile.
Tooth Loss
If you have lost one or more natural teeth, we can discuss lifelike and durable prosthetics, such as dental bridges, removable full and partial dentures, and implant secure dentures to help fill the gaps and provide a full, functional, and attractive smile. Each one will be custom-fitted for the smile, and designed to match facial structure. If you have any questions about how we approach dental care for our older patients, or if you would like to schedule a visit for yourself or someone in your family, then please contact our team today to learn more. We want to help people of all ages enjoy optimal oral health and a beautiful, full smile!
DO YOU HAVE QUESTIONS ABOUT SENIOR DENTISTRY?
Our team is ready to help people of all ages maintain their best possible smile with preventive, cosmetic, restorative, and even prosthetic dental care. For more information on how our team will help older patients enjoy optimal oral health, then call the office of James Stewart, DDS in Livonia, MI, today at (734) 425-4400.