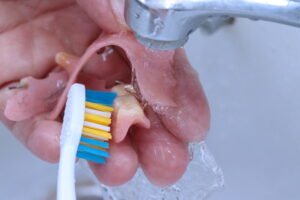 When you have several gaps in your smile, your tooth loss could be too severe for a bridge, but not severe enough for a complete denture. For this in-between stage, you may benefit from a custom-made removable partial. In today's blog, your Livonia, MI, dentist talks about the benefits of partial dentures.
The Causes of Advanced Tooth Loss
When you lose several teeth in your smile, this could be related to issues like untreated tooth decay or infection, or possibly a serious injury. But in most situations, the blame is placed on gum disease. The advanced stage, known as periodontitis, is the most common cause of adult tooth loss. When you start to lose your teeth, complications could arise like misalignment, with bite imbalance increasing the risk of tooth decay, infection, periodontal issues, and even TMJ disorder and bruxism (teeth grinding). To avoid these complications and safeguard the health, function, and beauty of your smile, you need a custom prosthetic.
Creating a Custom Denture
First, we want you to know that every prosthetic we create is custom-made for a smile, ensuring not only a balanced and comfortable fit, but a lifelike appearance too. The process begins with a thorough exam, one that employs digital x-rays and intraoral cameras. We use this information to assess the cause and extent of your loss, and the current state of your smile and oral structures. In a lab, this information will help us design and craft a custom-made denture for your smile.
The Partial
A partial denture will contain ceramic teeth, which absorb daily bite forces like natural ones, set into an acrylic base that looks like gum tissue. These teeth will also be color-matched to blend with the rest of your smile and fit comfortably. The prosthetic also contains metal clasps, invisible when in place, that connect to natural teeth and secure your full smile. The prosthetic is removable, and will need to be soaked and cleaned periodically. On average, this could last for between 5 and 10 years, allowing you to smile with confidence and enjoy your favorite foods again.
If you have any questions about how we address more severe cases of tooth loss, then contact our team today. We would love to help enjoy a full smile, and better oral health and bite function too. Everything starts with an initial consultation and exam, so schedule your today!
TALK TO YOUR LIVONIA/DETROIT, MI DENTIST ABOUT MISSING TEETH 
We would like to help you find the best option for your missing teeth, from our bridges and dentures to advanced implant dentistry. If you want to know more about how we design and craft a set of prosthetics for your smile, then please contact your Livonia, MI, dentist, Dr. Stewart, by calling (734) 425-4400.