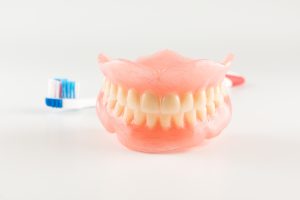 When you suffer from an advanced case of tooth loss, this could have a negative impact on your oral health and smile function. To replace all of your teeth on one or both arches, you may need a full set of dentures. In today's blog, your Livonia, MI, dentist will discuss how we design and craft a set of dentures for your smile.
Designing Your Prosthetic
Every smile is unique, which means we need to customize each set of dentures for our patients. To begin, we will examine your smile carefully and use intraoral cameras and digital x-rays to take detailed digital images. The images and measurements we gather can be used to create a 3D impression, one more accurate than the old school mold method. Using the model in a lab setting, we design and craft the finished product from durable and lifelike materials.
Securing Your New Teeth
A partial set of dentures will have lifelike porcelain teeth, shaded to blend with your smile, placed in a base made from acrylic. The base will look like gum tissue, and also contain metal clasps that attach to natural teeth to secure your prosthetic. With a full option, the prosthetic is held in place with suction for the lower arch, and a special adhesive for the upper arch. These will be removable and need to be taken out occasionally for cleaning and soaking. They need to be replaced every 5 to 10 years on average. We could also secure a full or partial denture with multiple dental implants, providing a fixed option that could last for decades to come. We will help you choose the best option for your smile, but know that regardless, it will be custom-made for your smile.
Preserving Your Smile
We will provide detailed instructions for cleaning and maintaining your prosthetics, and for helping improve overall oral health. We want to help you enjoy a complete smile again, so you can eat your favorite foods, smile with confidence, and avoid a prematurely aged appearance. We know how important a full smile is, which is why we're ready to address tooth loss, whether that means replacing a single tooth, or all of them!
If you have any questions about how we design and craft a set of dentures, or if you would like to see if there is an option right for your smile, then contact our team today.
DO YOU HAVE QUESTIONS ABOUT PROSTHETIC DENTISTRY?
We would like to help you enjoy a complete smile once again. For more information on replacing multiple missing teeth, then call the office of James Stewart, DDS in Livonia, MI, today at (734) 425-4400. You can also visit our office at 15873 Middlebelt Rd Suite 100 Livonia, MI 48151.