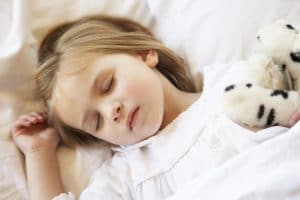 Prevention is the main focus of all children's dentistry treatments. Besides checkups and cleanings to ensure a healthy smile, that prevention most often occurs in the form of treatments such as dental sealants that keep teeth safe from cavity-causing bacteria. Sometimes, however, it may require more involved treatment. For instance, orthotropics treatment prevents sleep apnea and a wide range of other chronic issues by ensuring the proper growth and spacing of your child's facial structures.
How Can Sleep Apnea Be Prevented?
Sleep apnea is a disorder that causes you to stop breathing while you sleep, which forces your body to wake up and clear the airway. Because it's often caused by abnormally sized oral tissues and/or an unusually narrow airway – both of which are congenital issues – sleep apnea is often considered unpreventable. However, correcting the growth and development of these structures helps avoid experiencing apnea episodes in the future, reducing your child's risk of also experiencing the many health risks associated with sleep apnea.
How Orthotropics Addresses the Problem Early
The focus of orthotropics is to guide your child's facial and oral structures to grow in proper alignment, with adequate spacing and symmetry for all of them to develop properly. The custom-designed aligners that children wear throughout the treatment process are comfortable and discreet enough to remain unobtrusive at night so as not to interrupt their sleep.
Ask Us About Orthotropics and Sleep Apnea
Obstructive sleep apnea is often the result of abnormal facial and oral growth, which can lead to chronic airway obstruction. Orthotropics corrects this growth, helping to prevent sleep apnea in your child. To learn more, schedule a consultation by calling the office of James Stewart, DDS in Livonia, MI, today at (734) 425-4400. We also proudly serve patients who live in Farmington Hills, Farmington, Plymouth, Northville, Novi, Dearborn Heights, Dearborn, Garden City, Westland, Redford, and all surrounding communities.