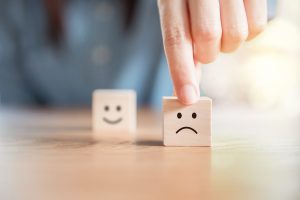 Plain and simple, if you decide to ignore your TMJ health, you're not doing yourself any favors. Instead, you're setting yourself up for some major disappointment because when TMJ disorder strikes, it can begin as what appears to be a mild oral health concern. However, if you're not aware of the potential side effects and how they can significantly impact your overall life, you'll wish you had done something about your jaw joints earlier! Allow our Livonia, MI team to shed some light on what we mean, so you feel a bit more compelled to pay attention.
You'll Lose Comfortable Range Of Motion
First, remember that if you are not paying attention to your TMJ health, TMJ disorder begins, and you neglect to consider it, you're going to end up having problems with your range of motion. Think about your mouth and all the ways you can move it when your jaw joints are just fine. You can open your mouth vertically, up and down. You can shift your jaw side to side. You can eat it in what feels like a bit of a circular motion. Now, think about what happens when your jaw joints hurt, feel sore, feel stressed, feel tired, or lock up as you move: It restricts your movement and your ease of movement!
About Motion Concerns
Sure, realizing that you may lose some ease with your range of motion sounds bad. However, it's easier to understand why this TMJ health problem is an issue when you apply it to your real everyday life. Here's what you need to understand: In order to eat food, you move your mouth with the help of your TMJs. The same is true when you speak. And also when you sing. Oh, and when you laugh really hard! So, if you neglect to do something about TMJ disorder, all of these details that contribute to your usually lovely quality of life can make things difficult. Keep up with comprehensive smile care, so you don't have a single hiccup when it comes to your jaw joints and your daily life!
What To Do
So, we keep insisting that you protect your jaw health with TMJ protection but you ask our team, what does that actually mean? In short, it means: Schedule your twice-annual visits with us and follow through on any care we suggest. It's very easy!
Protect Your TMJ Health
Make keeping your TMJs healthy and your range of motion optimal when you remember to see us for your dental visits. If we suggest TMJ treatment or other preventive care, follow through as recommended for best results! James Stewart, DDS, and our team serve patients from Livonia, MI, as well as Farmington Hills, Farmington, Plymouth, Northville, Novi, Dearborn Heights, Dearborn, Garden City, Westland, Redford, and the surrounding communities. To schedule a consultation, call our office today at (734) 425-4400.