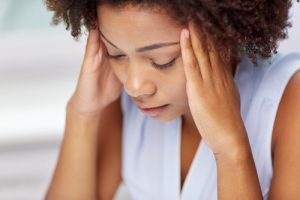 Do you often wonder why you keep getting headaches? If you have head pain without a discernable cause, then you may have an oral health issue. TMJ disorder and bruxism have both been linked to persistent headaches. Fortunately, we can provide relief with our comfortable and non-invasive treatment options.
Frequently Asked Questions About Headache Relief
Question: Could my discomfort be linked to TMJ disorder?
Answer: For some patients, this is definitely the case. TMJ disorder, also known as TMD, is a disorder that occurs when the jaw joints undergo excessive strain, often as a result of injury, tooth loss, or misalignment. Patients then experience trouble fully opening and closing their mouths, as well as migraines and jaw pain. A popping or clicking sensation in the jaw could be a warning sign.
Question: What if I grind my teeth?
Answer: Teeth grinding, also known as bruxism, can lead to headaches, jaw pain, and toothaches. Without treatment, bruxism can wear down and damage tooth enamel, leading to a greater risk of decay and infection. Major factors behind bruxism include TMD, stress, and malocclusion.
Question: Can you treat the issue with an oral appliance?
Answer: We often can! An oral appliance is similar to a nightguard and is worn while the patient sleeps. The device can reposition the jaw to ease strain on the joints, stopping TMJ-related head pain. In addition, the device can also place a barrier between the upper and lower teeth, which protects the them from damage due to future grinding episodes.
Question: Is an aching head reason enough to see the dentist?
Answer: Yes! As you can see, an aching hedad can often indicate a serious oral health issue, one that can also threaten the health of your smile.
Interested in Headache Relief?
James Stewart, DDS, we can help alleviate head pain with our TMJ and bruxism treatments. We serve patients of all ages from Livonia, MI, as well as Farmington Hills, Farmington, Plymouth, Northville, Novi, Dearborn Heights, Dearborn, Garden City, Westland, Redford, and the surrounding communities. To schedule a consultation, call our office today at (734) 425-4400.