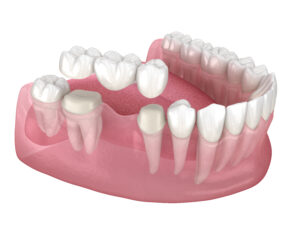 If you have lost teeth, even if you've only lost one tooth, you need to see our team. Even minor tooth loss could lead to serious issues and complications for your smile. To handle the loss of one to three teeth in a row, your Livonia, MI, dentist could create and secure a custom and lifelike dental bridge!
The Risks Minor Tooth Loss Poses
When you lose even one tooth, this could lead to issues with your oral health. For example, the gap could mean that nearby teeth shift from position, creating misalignment that changes your smile's appearance and also leads to tooth decay and gum disease. The gap could alter your bite balance and strain your jaw joints, so painful complications like TMJ disorder and bruxism (teeth grinding) could develop. If you have a larger gap of two to three missing teeth in a row, this could alter how you speak and make eating difficult. By placing a dental bridge, you avoid the complications and enjoy a full smile!
Planning Your Prosthetic
To get started, we will closely examine your smile to assess the cause and extent of your tooth loss. We then gather detailed digital images of your smile from multiple angles, which will enable us to plan the design of your new teeth. We will numb the teeth on each side of the gap and remove structure from them. These abutment teeth will help support your new dental bridge! The prosthetic will be made from materials like ceramic, which can handle daily bite forces and stay in place for years. The material can also be shaded to blend with your smile seamlessly.
Attaching Your Bridge
The bridge will contain new teeth with crowns attached to one or both ends. When the prosthetic is complete, we will attach the crowns to the abutment teeth, which secures your new prosthetic firmly in place. On average, the prosthetic can last for 10 to 15 years before requiring replacement as the jaw ridge changes shape. However, we could also insert dental implants and then attach the crown portions to the, which preserves natural tooth structure and also prevents changes to the jaw ridge, so your new prosthetic can last for decades to come, possibly even a lifetime.
If you have any questions about how we support a prosthetic, or if you have minor tooth loss that needs attention, then please reach out to our team. We want to help you enjoy a full smile again with our lifelike and durable dental bridges!
SCHEDULE YOUR NEXT APPOINTMENT TODAY
Our team wants to help you enjoy a complete smile with a lifelike and durable tooth replacement. To talk to our team about addressing your tooth loss, please call our office in Livonia, MI at (734) 425-4400!