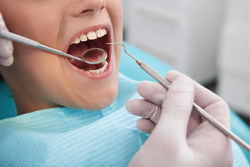 As a parent, you want the very best for your child. Ensuring good overall health for your little one needs to include regular visits to the dentist. Wondering when your child should see the dentist? People are often surprised to find out that dental care for kids begins as soon as the first tooth arrives. With the right steps, you can help your child maintain a healthy and attractive smile.
The Initial Visit
When should a child see the dentist for the first time? Many people assume such a visit won't be necessary until the child is older and possibly in school. In reality, the eruption of the first baby tooth means a visit is due. The first visit is a simple affair, with the dentist examining the smile to make sure the teeth are erupting properly. From this point, the dentist may start asking you to bring your child in once every six months. Regular visits to the dentist not only promote good oral health, but can also reduce dental anxiety in kids as they grow older and become accustomed to the dentist's office.
Checkups and Cleanings
A child's regular checkups will involve the dentist looking for any indicators of developing dental problems, such as cavities, misalignment, or possible even gingivitis. Catching problems in the earliest stages allows the dentist to treat them before they progress. We may also suggest a dental cleaning in order to remove plaque buildup and tartar from the surfaces of the teeth.
Protecting Little Smiles
We offer a number of preventive treatments to help protect little smiles form damage, whether from a sports injury or advanced tooth decay. We can offer custom-made athletic mouthguards, as well as dental sealants and fluoride treatments to avoid dental caries. If you have any questions about our procedures or would just like to schedule a visit, then we encourage you to contact our office today.
ABOUT YOUR LIVONIA CHILDREN'S DENTIST:
James Steward, DDS, and our compassionate staff proudly serve patients of all ages from Livonia, Farmington Hills, Plymouth, Northville, Dearborn Heights, Garden City, and all surrounding communities. To schedule a consultation, call our office today at (734) 425-4400.