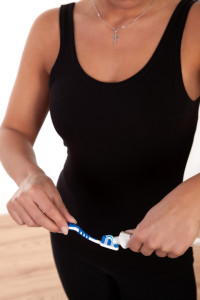 Do you envy athletes? Particularly Olympic ones? They are in great shape and healthy in so many ways. You may be surprised to realize then, that you may have a healthier mouth. According to a study published in the British Journal of Sports Medicine, when it comes to oral health, the 2012 British Olympic athletes have nothing to cheer about.  Read on as your Livonia, MI dentist, Dr. James Stewart, shares the results of the study.
Oral Health
When you consider how disciplined Olympic athletes need to be to qualify for the Olympics, you have to wonder why they are not as disciplined with their oral health care. A recent study shows:
Gingivitis: Over 75 percent of British Olympic athletes have gingivitis. Gingivitis is early stage gum disease and presents as inflammation or infection of the gingival tissue.
Tooth Decay: Over 50 percent of the athletes presented with cavities.
Dental Exams: Nearly 50 percent of the athletes had not visited the dentist within the last year for a checkup, cleaning, or treatment.
Periodontitis: Fifteen percent of the athletes presented with periodontitis, the severe form of gum disease. At this point, the inflammation or infection of the gums has spread to the ligaments and supporting jaw bone, which can result in tooth loss.
Tips
While most people could take a few tips from Olympic athletes regarding how to get in shape and stay healthy, it seems they could take a few tips from you regarding proper oral health care which consists of:
Brushing your teeth: Brush your teeth twice a day and floss daily to prevent bacterial plaque buildup which leads to gingivitis.
Eat healthy: Eating a balanced diet, and choosing healthy foods and snacks high in protein, calcium, and other vitamins and minerals keeps your teeth and tooth enamel healthy and discourages the formation of plaque. Foods good for your teeth include cheese, beans, low-fat dairy products, lean meats, eggs, fish, and fresh fruits and vegetables.
Dental appointments: Attending regularly schedules dental checkups twice a year helps you stay on top of any developing problems, and helps keep your teeth free of bacterial plaque that causes gingivitis.
About Your Livonia MI Dentist
James R. Stewart, Jr, DDS, PC and our compassionate staff proudly serve patients of all ages from Livonia, Farmington Hills, Plymouth, Northville, Dearborn Heights, Garden City, and all surrounding communities. To schedule an appointment, call our office today at (734) 425-4400.