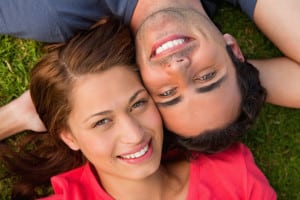 In modern dentistry, there are a vast number of options for improving your smile. Cosmetic dentistry is a highly popular form of self-improvement, and many people are eager to experience dramatic results that can alter their overall appearance. Some patients choose to make minor enhancements, like teeth whitening, while other opt for major corrections along the lines of porcelain veneers, cosmetic orthodontics, and more. No matter your choice, you are sure to gain a great boost of confidence with your new, sparkling smile.
Options to Suit Your Needs
Teeth whitening is one of the easiest, and most popular forms of cosmetic dental enhancements. With in-office treatments, you are likely to see dramatic results immediately after completing the procedure. This type of whitening is ideal for tough stains, while at-home whitening treatments can be used daily, and for regular upkeep. Always consult with your dentist if you have tooth sensitivity before using any over the counter bleaching products.
Porcelain veneers are another type of dramatic oral transformation. It is well known that many celebrities choose porcelain veneers to remake their entire smile. The reason for this is veneers are extremely natural looking, and can last for many years if properly taken care of. When having veneers placed, a small amount of your tooth enamel must be removed to allow for permanent adhesion of the thin layer of porcelain to your tooth.
Invisalign clear braces are an excellent option for straightening your smile inconspicuously. Unlike traditional metal braces, Invisalign aligners can be removed daily to maintain proper oral hygiene and allow for easier flossing to prevent gum disease. Your aligners will be made from thin, medical grade plastics, and are custom designed for your specific tooth straightening needs. Every so often you will switch out your aligner to the next stage until your desired amount of correction has been reached and you have completed your treatment plan.
ABOUT YOUR LIVONIA COSMETIC DENTIST:
James Stewart, DDS, and our compassionate staff proudly serve patients of all ages from Livonia, Farmington Hills, Plymouth, Northville, Dearborn Heights, Garden City, and all surrounding communities. To schedule a consultation, call our office today at (734) 425-4400.