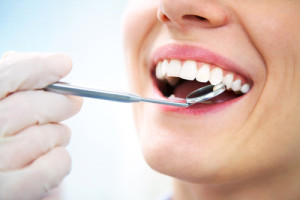 Did you know that with the right steps you can help prevent the onset of common dental problems? We believe in offering our patients the latest in preventive dentistry. From avoiding tooth decay to combating gum disease, a preventive approach can help ensure a lifetime of healthy and whole smiles.
Preventive Dentistry Quiz
True or False: A headache may be caused by TMJ disorder.
True or False: Bruxism can lead to damaged teeth.
True or False: We can help prevent gum disease with dental cleanings.
True or False: Dental sealants can protect teeth from cavities.
Answer Key
True. Also known as TMD, this disorder develops when the jaw joints become strained. Symptoms include a popping sensation in the jaw and chronic headaches. Eventually, opening and closing the mouth can become difficult. Part of our approach to prevention includes treating the issue with a comfortable and innovative oral appliance.
True. Bruxism refers to the grinding of the teeth or the clenching of the jaw. Patients may only do so during sleep, but symptoms include toothaches, tooth sensitivity, and soreness in and around the jaw. As with TMJ disorder, we can treat the issue with a custom-made mouth guard that repositions the jaw and stops the upper and lower teeth from making contact.
True. Gum disease often develops as a result of plaque buildup irritating the gums. Plaque is caused by bacteria and preventing periodontal disease can be accomplished with a dental cleaning. During this procedure, we simply remove plaque from the teeth with a manual or ultrasonic tool.
True. For children, we can often help prevent cavities by placing dental sealants on the rear molars. A special plastic material will be added to the teeth, which keeps food from becoming stuck between teeth. The sealants can safeguard hard to reach teeth from developing tooth decay.
ABOUT YOUR LIVONIA PREVENTIVE DENTIST:
James Steward, DDS, and our compassionate staff proudly serve patients of all ages from Livonia, Farmington Hills, Plymouth, Northville, Dearborn Heights, Garden City, and all surrounding communities. To schedule a consultation, call our office today at (734) 425-4400.