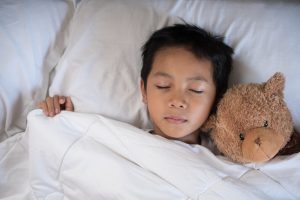 Does your child seem to have trouble going to sleep and staying asleep? Has lack of proper rest caused problems for them at home and school? If so, then your child may benefit from orthotropic treatment. To learn more, consider trying our Child Sleep Health Questionnaire. We use the questionnaire to see if our Livonia, MI, children need to undergo orthotropic treatment.
What Does the Questionnaire Ask?
First, the questionnaire is going to look at your child's sleep habits. We want to find out if your child is restless, has trouble breathing or stops breathing, snores, or sweats during the night. We're going to ask about common daytime symptoms as well, such as behavior at home and school. The questionnaire will also inquire about recent surgeries, allergies, negative dental experiences, or if your little one has asthma. We will then look at the results and may recommend a further diagnosis. If you would like to see the questions for yourself, click this link.
The Signs of Sleep Troubles
In the above section, we talked a little about warning signs, such as breathing issues during sleep. However, you should also watch for sleeping talking or walking, screaming in sleep, nightmares and night terrors, kicking legs, and waking multiple times in the night. Trouble falling asleep and waking early despite staying up late could also indicate trouble. If your child is moody, sleep during the day, struggles to pay attention in class, and has behavioral trouble at school, consider talking to our team. These issues could indicate your child is suffering from poor sleep due to airway obstruction.
The Benefits of Orthotropic Treatment
An orthotropic device is an oral appliance your little one will wear at night. The device repositions the jaw to ensure clear airways and uninterrupted breathing. Children then sleep better, becoming more alert and positive during the day. Kids may also have a lower risk of developing dental misalignment and sleep apnea later in life. With this solution, we offer a comfortable and minimally invasive solution to breathing difficulties and poor sleep, while also guiding the growth and development of the jaw, facial structure, and oral tissues. If you have any further questions, or if you think your little one needs a diagnosis, then answer our child sleep health questions and contact our team today. We want to help your child enjoy better quality of life!
DOES YOUR CHILD NEED SLEEP SOLUTIONS?
Our team will help your child obtain good sleep and better overall health! James Stewart, DDS, and our team serve patients from Livonia, MI, as well as Farmington Hills, Farmington, Plymouth, and the surrounding communities. To schedule a consultation, call our office today at (734) 425-4400.