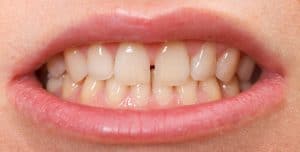 What's the problem with the way your smile looks? If your immediate response includes something along the lines of "there are spaces in my smile!" then this is certainly something we have heard before. Did you know that gaps in your grin can be more than just an eyesore? You've probably noticed that they can trap food (or grab your soft tissue), so closing them certainly provides you with many benefits. How to do that you may wonder to yourself? Not a problem. Consider cosmetic treatment options.
When Bonding Is Your Best Choice
You may want dental bonding when your priority and main goal is to fill in those spaces. Bonding is a wonderful cosmetic treatment option when you have particular, isolated tasks in mind. We can fill those gaps and make it look like your neighboring teeth have always touched one another! You won't be able to tell that we're simply using color-customized artificial tissue called composite to get the job done beautifully.
Veneers Do More Than Close Spaces
Porcelain veneers are one cosmetic treatment option for closing those gaps in your smile. When we customize them, we make them slightly wider than your teeth. The result? Teeth that appear to touch. Again, your smile will look natural! However, there's more than just gap-closing that comes with veneers. You can customize a whole handful of other concerns, if you'd like to accomplish a lot at once. Fill the spaces and whiten teeth, even out your tooth length, reshape your teeth, and fix problems with your texture, all at once!
See Us To Discuss Smile Spaces
When one of your main concerns with your smile is your spaces, it's time to talk with us about how cosmetic treatment can help. James Stewart, DDS, and our team serve patients from Livonia, MI, as well as Farmington Hills, Farmington, Plymouth, Northville, Novi, Dearborn Heights, Dearborn, Garden City, Westland, Redford, and the surrounding communities. To schedule a consultation, call our office today at (734) 425-4400.