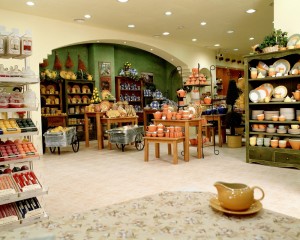 With the holidays right around the corner you may already be thinking about that special gift for that special person. If you're looking for something unique, an addition to a collection, or a conversation piece for your living room wall, your Livonia, MI dentist, Dr. James Stewart, suggests visiting the Town Peddler Craft & Antique Mall in Detroit, only twenty-three minutes from Livonia.
What: Town Peddler Craft & Antique Mall
Where: 35323 Plymouth Road, Livonia, Michigan 48150
Hours: Monday through Saturday 10am to 8pm; Sunday 11am to 6pm
About
The Town Peddler Craft & Antique Mall has been family owned and operated since 1993. Although over 24,000 square feet with 400 craft and antique booths, as soon as you walk in you will find it instantly familiar, inviting, and at-home comfortable. There is no doubt you will find everything you need to give your home that loving touch and welcome feeling. The craft and antique mall Partner-Dealers add new items every day so you will always find something fresh and never get bored looking. Take your time browsing and enjoying the extensive and eclectic variety of popular gifts; whimsical collectibles; fashionable, vintage, and valuable antiques; and unique handcrafted items.
This unique craft and antique mall has been winning awards since 2007:
Winner "Best Antiques" WDIV-4 "Vote 4 the Best" '07, '08, '09, '10, '11, '12
Winner "Best Antiques" CityVoter "Detroit A-List" '10, '11, '12
Testimonials
LOVE this store! My home is filled with many crafts from many booths of talented people 🙂 – Colleen J.
Great place to buy unique gifts! – Debbie G.
The variety of items is vast. It's impossible to walk out with just one item. I would buy everything, but the carts aren't big enough. – Herta H.
Take the Owners Advice
"Add life to your living room, character to your kitchen, beauty to your bedroom, even whimsy to your water closet! With over 400 Partner-Dealers fulfilling your every wish, you'll find just what your home wants to make it happy."
About Dr. Stewart
James R. Stewart, Jr, DDS, PC and our compassionate staff proudly serve patients of all ages from Livonia, Farmington Hills, Plymouth, Northville, Dearborn Heights, Garden City, and all surrounding communities. If it's time for a professional cleaning, call our office today at (734) 425-4400, to schedule an appointment.