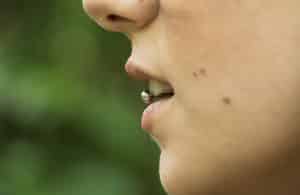 What's next on your agenda for the way you accessorize yourself? Have you decided that your interest in obtaining an oral piercing is something you're beginning to feel very serious about? If so, there may be a moment during which you ask yourself the following question: "Is this a safe decision or an unsafe one?" To make sure you're moving forward feeling fully knowledgeable about the potential risks for your oral health, we recommend that you talk this choice over with us first! To begin, gather up introductory details about some things that can go wrong.
Bad: You Can Damage Your Mouth
Let's start with the fact that choosing to wear a tongue piercing can negatively affect your oral health by damaging it physically. You might think you'll be able to be extremely careful but if you have it in your all day, chances are good you won't always remain conscious of the piercing. The problem? Extended contact against your teeth or gums can cause irritation, pressure, and gum recession. Quick, strong contact may cause chips or cracks!
Worse: You Can Develop An Infection
Now, let's talk about the hole you're creating with a tongue piercing. It is extremely susceptible to infection, particularly because your mouth is full of germs and all sorts of bacteria. While you can keep the area clean with thoughtful care, infection is still a big risk.
Worst: Swelling Can Obstruct Breathing!
Unfortunately, your tongue may swell when you receive a tongue piercing. This bodes poorly for your oral health and overall health if it swells to a significant degree, which is somewhat rare but possible. Too much inflammation can obstruct your airways and land you in the emergency room.
Avoid Dental Damage By Asking For Advice
If you're unsure about choices you'd like to make for your smile, remember that asking during dental checkups is always a wise decision. At James Stewart, DDS, we serve patients of all ages from Livonia, MI, as well as Farmington Hills, Farmington, Plymouth, Northville, Novi, Dearborn Heights, Dearborn, Garden City, Westland, Redford, and the surrounding communities. To schedule a consultation, call our office today at (734) 425-4400.