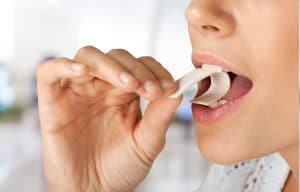 There are things you know that you can do to make your TMJ disorder better. First and foremost, of course, that includes visiting our Livonia, MI team as you discover more about and head home with TMJ treatment to allow your jaws to heal. While this is certainly to your advantage in a big way, something you may not notice just yet is that there are also things you should stop doing if you really want to give your jaw joints the best chance they have at regaining and maintaining their health and their proper function. Did you know there are little things you're doing that can really make things worse? Let's cover some of them!
Stop Biting Your Nails
You know, if you bite your nails as a habit, that this isn't good for your nails! You may even realize it might not be so wonderful for your teeth either (it really can lead to cracked, chipped, and worn dental tissue). However, we often find that patients don't take their TMJ disorder into consideration as it relates to nail biting. Just think about the pose and the little motions that you make when you nibble and bite your nails. You likely set your jaw to the side and then move your teeth back and forth (this requires motion from your TMJs). It can be quite stressful for your jaw joints, so do your best to give it up!
No More Gum Chewing
Our team knows that there are instances in which we may promote chewing gum. That is, gum that is free of sugar! While it can be a wonderful way to help clean your smile throughout the day when you're not exactly close to your toothbrush, it's not something we suggest for individuals with TMJ disorder. It requires consistent motion from your TMJs, which is the opposite of what they need right now.
A Tough Nut To Crack Calls For A Nutcracker
Use this example literally and extend it beyond the cracking of a nut! When something needs cracking open, cutting open, prying, slicing, etc., don't ask your teeth and TMJs to do the work. Use an accessory. Then, if and only if the food you're about to eat is easy on your teeth and jaws, proceed!
Avoid Additional TMJ Problems With Our Help
Come in to learn more about care, treatment, and habits to avoid, so you can protect and treat your TMJs! James Stewart, DDS, and our team serve patients from Livonia, MI, as well as Farmington Hills, Farmington, Plymouth, Northville, Novi, Dearborn Heights, Dearborn, Garden City, Westland, Redford, and the surrounding communities. To schedule a consultation, call our office today at (734) 425-4400.