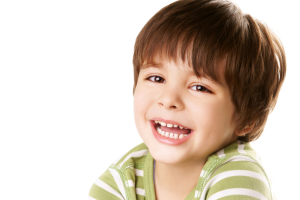 You do everything you can to protect your son or daughter. You also do everything you can to protect his or her smile. We understand that you may have a hard time scheduling your little one's first appointment – especially if you had dental experiences in the past that were less than thrilling. However, we feel passionate about providing comfortable, enjoyable dental care to our youngest patients. With this in mind, we hope you will consider the benefits of pediatric visits and encourage you to call us with any questions.
Visits Establish Positive Feelings
We strive to provide your child with a relaxed first visit – and calming, enjoyable visits every time after our initial meeting. We recognize that first impressions are extremely important, which is why we have a patient-focused approach for a happy first visit. You may bring your child with you to one of your own checkups or schedule a brief "Happy Visit" during which we will simply take a quick look at your child's mouth. This will allow your little one time to become acclimated to the new environment.
Appointments Allow for Early Detection
In dentistry and most medical fields, catching problems before they occur or early in their development offers the greatest amount of flexibility in correcting the problem. By bringing your child in by the age of one, we can begin monitoring the development of your child's teeth and jaws, while keeping track of gum health. If anything appears to begin developing incorrectly, we can guide your child's smile toward excellent structure and health rather than attempting to restore damage that has already occurred. This will save you time, energy, and money.
Consistent Care Yields Consistent Results
Plaque begins adhering to teeth as soon as they make their first appearance. The sooner you begin bringing your child in for consistent dental cleanings, the greater your little one's chance of avoiding tooth decay and gum disease down the road. Additionally, creating consistent habits at a young age allows your child to incorporate consistent care into his or her expectations for a lifetime of excellent care and healthy teeth and gums.
ABOUT YOUR LIVONIA DENTIST:
James Steward, DDS, and our compassionate staff proudly serve patients of all ages from Livonia, Farmington Hills, Plymouth, Northville, Dearborn Heights, Garden City, and all surrounding communities. To schedule a consultation, call our office today at (734) 425-4400.