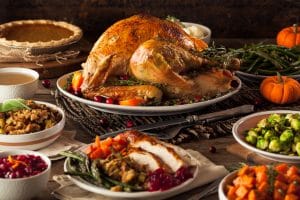 There's the very good, very exciting side of your Thanksgiving turkey that can make you think this dish is just fantastic for your oral health (and it is quite wonderful!). However, as with just about anything in life, our Livonia, MI team reminds you that it's all about context. So, before you quickly reach for as many servings as possible this coming holiday, reel in those enchanted feelings, take a deeper look at the way turkey may benefit (or lead to some issues) for your smile, and then feel good knowing you're prepared to get your fork and knife ready without a drop of worry!
The Protein: Good!
The fact that turkey is absolutely packed full of protein? Well, that's quite fantastic. It's what makes this selection an A+ for your oral health on Thanksgiving (and beyond, of course). Eating such foods helps to keep your teeth strong and your body healthy, too! In addition, remember that the stuff the bad bacteria in your smile wants to eat (and will then consume into acid that can damage your smile health) includes carbohydrates and sugar. Not protein. We remind you that eating turkey won't promote this concern, so you're in the clear!
The Hard-To-Bite Sandwich: Bad!
Now, if you're not simply cutting up a piece of hand-carved turkey but you are instead planning on building yourself a sandwich on Thanksgiving, we must remind you that this can become somewhat hazardous, especially if you haven't been keeping up with your preventive care and your teeth are at all susceptible to breaking (perhaps you have an untreated cavity). A hard-to-bite sandwich can require too much pressure from your teeth and can lead to damage. This can also irritate jaw joints, if you are dealing with TMJ disorder, so be careful!
The Lack Of Staining: Good!
Another good, positive thing about turkey consumption on Thanksgiving in terms of your oral health? It's not full of any pigments that will stain your teeth. Since it's not going to encourage acid, either, it's not going to damage your enamel (which can also lead to a dim smile). You can feel sure you're keeping your smile dazzling and beautiful when turkey is your food of choice!
The Stuck Between Teeth Issue: Bad!
You know this! Turkey is likely to get stuck here and there between neighboring teeth, so be sure to get it out! Otherwise, it can trap bacteria, which is no good for your oral health.
Keep Your Smile Safe This Turkey Day 
Maintain your oral health, while you feel fully confident diving into your Thanksgiving meal this year, by considering some very helpful and simple tips from our dental care team! Call us with any questions. James Stewart, DDS, and our team serve patients from Livonia, MI and the surrounding communities. To schedule a consultation, call our office today at (734) 425-4400.