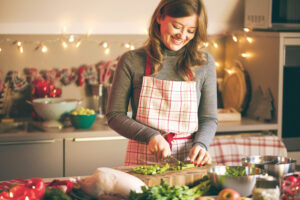 Now that the holidays are here, you and your family will be enjoying lots of sweet treats and holiday favorites, much of which is high in sugar and starch. Which means these could be a link to issues like cavities and gum disease. In today's blog, your Livonia, MI, dentist talks about keeping smiles cavity-free during the holidays.
The Link Between Sugar, Starch, and Cavities
When we enjoy foods and drinks with a high amount of sugar in them, or foods high in starch, this means the particles of sugar and starch could cling to the teeth. Over time, bacteria will consume them and, in the process, coat the teeth in layers of plaque buildup. As plaque hardens into tartar, it cannot be removed with brushing and flossing alone, and could lead to a greater risk of cavities and gum disease, as well as bad breath and discoloration. To help safeguard your smile, enjoy sugary and starchy items in moderation, and wash them down with a glass of water which helps cleanse the smile. You can also eat fresh fruit and veggies with them. Some fresh fruits and vegetables, such as carrots, apples, and broccoli, help scrub the teeth of plaque as you consume them.
Better Oral Hygiene At Home
In addition to keeping an eye on your diet, you also need to practice good oral health at home. Even if you're on a holiday break or trip, you need to start and finish each day by brushing your teeth for at least two minutes, and always using a fluoride toothpaste, which helps strengthen outer enamel. You also need to floss every evening too, as this reaches what is beyond the toothbrush's reach, and could limit the risk of gingivitis and gum disease.
Checkups and Cleanings
If you haven't scheduled one yet, we suggest making a visit for a checkup and cleaning soon! You can see us before the holiday season gets too hectic, and also use your remaining 2021 dental insurance benefits before they expire. A checkup lets us examine and identify areas of concern, so we can treat them quickly. We also clean your teeth, removing all harmful plaque and tartar from the surfaces of the smile. If you have any questions about our treatment options, or if you would like to schedule a visit soon, then contact our team today.
DO YOU HAVE QUESTIONS ABOUT PREVENTIVE DENTISTRY?
We would like to help you and your loved ones avoid issues like tooth decay. For more information on how we help smiles of all ages stay healthy and strong, then call the office of James Stewart, DDS in Livonia, MI, today at (734) 425-4400. You can also visit our office at 15873 Middlebelt Rd Suite 100 Livonia, MI 48151.