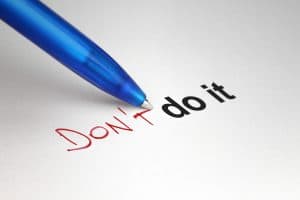 Of course, with just about anything these days, there appears to be a searchable, do-it-yourself (DIY) option for something you need to accomplish. Whether it's home improvement, a makeup look, or otherwise, you'll find it on the internet. While there are some DIY techniques that can be extremely helpful, we never suggest this for your smile care. We strongly encourage you to leave the dentistry to us! Need something? Just give us a call.
Use Anything Other Than Floss For Stuck Food
When you have food stuck between your teeth, you can usually get it out by flossing. This may require you to swish with water first to loosen it. You may even try brushing your teeth to grab some of the food. If these normal aspects of smile care do not yield successful results, it is time to call us. Let us remove the food for you (yes, this happens frequently).
Try To Address You Cavity With DIY Methods
If you can see your cavity, you might start to get some bright ideas regarding DIY smile care. You may watch some tutorials, read some interesting information online, and then decide that you can care for your decay all on your own. The truth, in short, is that you cannot. You will make matters worse and the decay will still worsen. See us for a filling or other restorative treatment!
Whiten Your Own Smile
The market is flooded with whitening options for your smile. Ever wonder why we don't over hundreds of options? It's because we offer you the smile care treatment that will work, that will do so effectively, that won't harm your smile, and that will guide you toward exceptional results. See us when this is your goal.
Come In For The Professional Care You Require!
Don't try out your own form of dentistry at home or you may end up worse off than you began. Instead, come in for the care that you need! James Stewart, DDS, and our team serve patients from Livonia, MI, as well as Farmington Hills, Farmington, Plymouth, Northville, Novi, Dearborn Heights, Dearborn, Garden City, Westland, Redford, and the surrounding communities. To schedule a consultation, call our office today at (734) 425-4400.