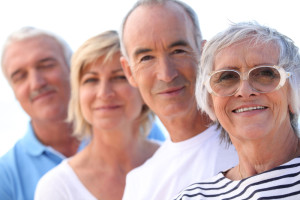 As you age you notice your body changing. You may become a bit forgetful, your muscles may become sore easier, you may be getting a few aches and pains in your joints, or find that physical activity makes you stiff the next morning. You know your body is going to age. You've watched your parents as their bodies began to age, your aunts and uncles, and your grandparents. However, for some reason teeth seem as if they should be ageless, but teeth age too. Today, your Livonia, MI dentist, Dr. James Stewart, talks about seniors and their dental health.
Teeth
Teeth are meant to last a lifetime, but aging does have an indirect affect on your dentition.  Later life is no time to slack off on your dental hygiene. Seniors are presented with a unique set of oral health issues.
Why Seniors?
With age come various health issues. As you get older you can develop arthritis, diabetes, high blood pressure, heart disease, and other chronic illnesses. These illnesses can affect your dental health directly or indirectly. For instance, an arthritic individual may find it hard to brush and floss, putting their dental health at risk. Diabetics are at higher risk for periodontal disease due to higher sugar levels in the oral cavity. Medications to control arthritis, diabetes, cancer, Parkinson's or other diseases can promote tooth decay and gingivitis. Research indicates that 40 percent of the population regularly takes medications that can damage their dentition.  Whether due to the illness itself, the medications to fight the illness, or merely wear and tear over the years, seniors are at risk for a variety of oral health problems including:
Stained, discolored, or darkened teeth
Thrush
Root decay
Degenerative bone loss
Tooth loss
Loss of, or diminished sense of taste
Oral cancer
To help avoid these issues, seniors should brush for two minutes twice a day, floss daily, rinse with an anti-bacterial mouthwash, and attend routine dental checkups including professional cleanings twice a year.
About Dr. Stewart
James R. Stewart, Jr, DDS, PC and our compassionate staff proudly serve patients of all ages from Livonia, Farmington Hills, Plymouth, Northville, Dearborn Heights, Garden City, and all surrounding communities. To schedule an appointment, call our office today at (734) 425-4400.