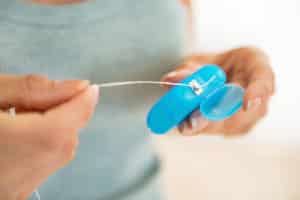 How do you feel about your dental hygiene? In many cases, we discuss hygiene with patients only to realize they have a very firm grip on brushing – but their certainty about flossing is not so steady. Unfortunately, if you're doing a great job with twice daily brushing but you're slacking a bit with the dental floss, you're simply not going to enjoy the level of oral health you would like to achieve. Find out if your approach to flossing is benefitting your grin – or if you need to make a couple improvements – with a brief quiz.
Quiz: Flossing
True or False: Before you begin flossing, you should tear off a couple pieces of floss – one for your upper teeth and one for your lower teeth.
True or False: You should press down firmly against your gum tissue with dental floss to increase circulation.
True or False: Dental hygiene requires you to floss your natural teeth but you don't need to floss around restorations.
Quiz Answers
False. We generally suggest you begin this portion of your dental hygiene with a surprisingly long piece of dental floss. Anywhere from a foot and a half to two feet is ideal. This will allow you to floss your entire mouth without reusing a segment of the floss strand – and without stopping to use a new piece.
False. The goal of using floss is to remove debris, plaque buildup, and food particles from between teeth and from just beneath your gum tissue. Use light pressure but do not press firmly against gum tissue – it will cause irritation or injury. The floss should be pressed against your tooth tissue.
False. If you have a bridge, implants, crowns, or otherwise, you need to floss around these "teeth" as well – bacteria, plaque, and debris may attach to them or become lodged between them, which promotes oral health problems for surrounding tissues.