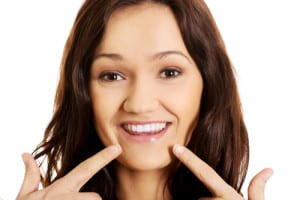 Have you ever heard of dental veneers? Made from a strong and lifelike material, these restorations can actually transform the appearance of a tooth. Who needs porcelain veneers? We may recommend this procedure to anyone with esthetic issues they want corrected, ranging from teeth stains to damaged teeth.
Livonia, MI Porcelain Veneer Quiz
True or False: Your restorations will be custom-made.
True or False: This restoration address many common imperfections.
True or False: The process typically takes two visits.
True or False: Porcelain is a strong and stain-resistant material.
Answer Key
True. We will first prepare your teeth by removing a small amount of structure. We will then take impressions of your teeth. Using these impressions, an expert ceramist at a dental lab will construct your veneers. This ensures a restoration that fits comfortably and blends with your smile.
True. By placing a veneer over the teeth, we can instantly mask many common problems, including discoloration, the appearance of misalignment, misshapen teeth, chipped/worn down teeth, and gaps between teeth. If you have any esthetic issues, consider talking to our team about placing a restoration onto your teeth.
True. The first visit involves preparing the teeth and taking impressions. Afterward, there will be a period of about two weeks where the restoration will be created. Once complete, you will return the office for a follow-up visit. During this visit, the doctor will check the fit and place the veneer with a powerful bonding agent.
True. Porcelain is often used to create dental crowns, inlays, or onlays to repair damaged teeth. This material mimics the translucent nature of tooth enamel, offering a lifelike finish. The restoration will last for decades, providing natural looking improvement and the ability to withstand powerful bite forces. For more information, plea contact our office today.
ABOUT YOUR LIVONIA COSMETIC DENTIST:
James Steward, DDS, and our compassionate staff proudly serve patients of all ages from Livonia, Farmington Hills, Plymouth, Northville, Dearborn Heights, Garden City, and all surrounding communities. To schedule a consultation, call our office today at (734) 425-4400.