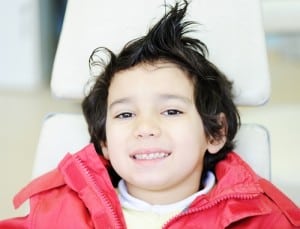 How often do your children see the dentist? While the baby teeth will fall out and be replaced with permanent teeth, good oral health means these teeth must still be cared for. With children's dentistry, we can help ensure your child's teeth remain healthy and beautiful. Find out more about the benefits of children's dentistry.
Livonia Children's Dentistry Quiz
True or False: Regular visits can instill good habits.
True or False: Kids require checkups and cleanings.
True or False: Dental sealants can help prevent tooth decay.
True or False: Fluoride treatments can strengthen tooth enamel.
Answer Key
True. Starting with the initial "happy visit" when the first baby teeth arrive to the routine visits once every six months, we take checkups as a chance to explain how to best care for your smile. In addition, regular visits have been shown to reduce dental anxiety in children.
True. A checkup enables the doctor to watch for signs of common dental issues, ranging from tooth decay to misalignment. Uncovering a problem early allows the dentist to treat it before the issue progresses. A dental cleaning allows the dentist to remove plaque buildup, which helps prevent young smiles from developing decay or gingivitis. Your child should receive a checkup or cleaning once every six months.
True. To protect teeth from decay, we can place dental sealants. A special plastic covering, we place the sealants on the hard-to-reach molars in the rear of the mouth. The sealants keep food from becoming stuck between teeth and don't require removal, they will simply wear away with time.
True. To boost your body's natural defenses against cavities, we can place a special fluoride varnish onto the teeth. The fluoride strengthens the tooth enamel, which reduces the chances of a cavity forming. For more information, contact our office today.
ABOUT YOUR LIVONIA CHILDREN'S DENTIST:
James Steward, DDS, and our compassionate staff proudly serve patients of all ages from Livonia, Farmington Hills, Plymouth, Northville, Dearborn Heights, Garden City, and all surrounding communities. To schedule a consultation, call our office today at (734) 425-4400.