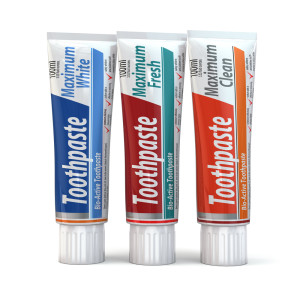 Oxygenated toothpaste can be beneficial to your oral health. In fact it is often prescribed for patients who have oral health issues such as periodontal disease, chronic bad breath, or other issues. In a previous blog, your Livonia, MI dentist, Dr. James Stewart mentioned using oxygenated toothpaste to brush your tongue and reduce bad breath. Today he discusses other benefits of oxygenated toothpaste.
Toothpaste, Toothpaste, Toothpaste
There are many different types of toothpaste on the market today, toothpastes for extra whitening, toothpastes to fight plaque and tartar, toothpastes for fresh breath, and so on. Now you can add oxygenated toothpastes to that list. Oxygenated toothpaste is exactly what it is called, toothpaste that is oxygenated, or infused with oxygen.  The reason behind adding oxygen to toothpaste is because it is toxic to anaerobic bacteria, which is abundant in the human mouth. Adding oxygen to the oral environment can help eliminate anaerobic bacteria such as streptococcus mutans which not only cause bad breath but are the major cause of tooth decay, gingivitis, gum disease, and can exacerbate or contribute to serious illnesses like diabetes, heart disease, and stroke. Brushing your teeth and your tongue with oxygenated toothpaste can reduce or eliminate disease-causing bacteria resulting, not only in a fresher mouth, but a healthier one too.
The introduction of oxygenated toothpaste into your throat and mouth from brushing can:
Eliminate bad breath
Kill harmful bacteria
Help boost your health with added vitamins such as vitamins C and E
Help reduce the risk of tooth decay
Help reduce the risk of gingivitis
Help reduce the risk of gum disease
Contribute to your overall health
If you're interested in introducing oxygenated toothpaste into your oral health regimen, look for any of the following at a pharmacy near you: Arm and Hammer Advance White Toothpaste, Colgate Baking Soda and Peroxide Toothpaste, or Therabreath Oxygenating Toothpaste.
About Dr. Stewart
James R. Stewart, Jr, DDS, PC and our compassionate staff proudly serve patients of all ages from Livonia, Farmington Hills, Plymouth, Northville, Dearborn Heights, Garden City, and all surrounding communities. If it's time for a professional cleaning, call our office today at (734) 425-4400, to schedule an appointment.