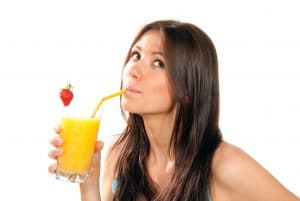 When you pick up a glass of your beverage of choice, you may not realize that whatever it is (and even how you're drinking it) can have just as serious an impact on your oral health as the foods that you choose. Furthermore, when you discover that your usual habits aren't so great for your smile, it can be very difficult to figure out what to do next when you're not certain about alternatives. Not to worry! We are here to explain what you can do in place of not-so-wonderful decisions.
Do Drink Up! Don't Nurse It.
Unless it's water you're drinking, remember that you're not doing your oral health any favors by sipping on your drink all day long. Be it coffee, soda, tea, juice, or anything else that isn't smile-friendly, you want to drink it up all at once. This is much better than nursing it slowly, thereby letting it coat your teeth and gums over and over.
Do Avoid Sugary Drinks! Don't Forget About Acids.
You should definitely avoid sugary drinks when you can. They promote tooth decay and may contribute to gingivitis, particularly when you're not very mindful of rinsing with water afterward. However, don't assume that anything without sugar is safe! If your beverage is acidic (which is nearly anything that isn't milk or water) then you are still heading down the same dangerous path for your oral health.
Do Give Kids Water! Don't Miss Out On Fluoride.
You should most certainly give your children water! However, don't only give them bottled water, even if that's what you drink. They need lots of fluoride, which means handing over a glass of drinking water from the tap (assuming it comes from a treated water facility and contains fluoride).
Protect Teeth With Easy Daily Care Tips
Remember that we are happy to remind you of simple details from food and beverage choices to care suggestions, so your smile stays healthy. James Stewart, DDS, and our team serve patients from Livonia, MI, as well as Farmington Hills, Farmington, Plymouth, Northville, Novi, Dearborn Heights, Dearborn, Garden City, Westland, Redford, and the surrounding communities. To schedule a consultation, call our office today at (734) 425-4400.