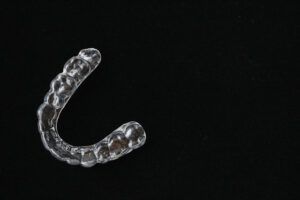 Many people have unconscious movements of the jaw, it is one of the most common places for an anxious brain to let loose. And for the most part, it is usually no serious issue.
However, for a select few, this activity can become seriously harmful to the smile and the jaw. Bruxism, the medical term for persistent teeth grinding, can alter the shape of the teeth or even how they sit within the mouth.
Today, your Livonia, MI dentist writes on how a night guard may be beneficial for your smile.
What Is Bruxism?
Bruxism is the term for unconscious movement that causes the teeth to hit each other. There are two forms of the condition, aptly called "sleep" and "wake" varieties, depending on whether the patient actively gnashes, chews, grinds, or clenches during sleeping or waking states. Some individuals experience both simultaneously.
The tension and muscle strain can also lead to nagging, persistent headaches. Those with bruxism are much more likely to experience other sleep disorders, such as sleep apnea (stopping breathing while sleeping) and snoring.
What Are The Symptoms?
For many patients, bruxism doesn't cause much concern. It either isn't persistent or severe enough for them to seek medical attention. But it often becomes worse over time, and the moment you notice any changes in the shape of your teeth or the comfort of your bite, you should speak with a dentist.
Beyond the flattening and cracking of teeth, cheek-biting might become an issue. When there are open wounds within the mouth, bacterial infections become much more likely. As the mouth is the largest opening into the body, there is always an inherent danger of infection.
What Are Night Guards?
Boil and bite mouthguards are the most common night guards, which are over the counter products that you can find at the drugstore or grocery store. Made of a thermoplastic, by placing the guard into boiling water, you soften it. You bite down firmly onto the softened plastic, creating an indention that is exactly that of your own teeth.
If your dentist determines that a more intensive course of action is necessary, they will most likely suggest a custom protector. Made out of a harder material than boil and bite guards, these are formed using a mold that the dentist makes of the mouth. This mold is then sent to a laboratory, where technicians create a slim, sleek protector that is similar to a retainer.
ABOUT YOUR LIVONIA, MI, DENTIST:
James Stewart, DDS, and our compassionate staff proudly serve patients of all ages from Livonia, MI, as well as Farmington Hills, Farmington, Plymouth, Northville, Novi, Dearborn Heights, Dearborn, Garden City, Westland, Redford, and the surrounding communities. To schedule a consultation, call our office today at (734) 425-4400.