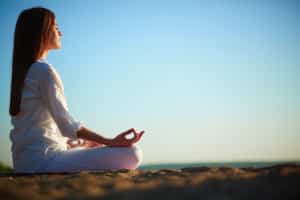 Do you practice daily meditation as a way to deal with stress, clear your mind, focus your thoughts, and enjoy a relaxed life? Perhaps you have never tried to meditate but it's always been something that you've been curious about exploring. Whether you're a novice or well practiced, meditation is for everyone – and this upcoming event is just the place to continue your education (or to get started).
What Is This?
This is a community event where you may participate in a meditation class. Expect to sit and focus your energy on your breath, while you allow the thoughts, worries, concerns, and idea floating around in your brain to melt away. You can expect to achieve a quiet mind as the restless chatter subsides. (Keep in mind, you simply need to show up wearing something casual and comfortable).
Where Is It?
This event will be held at the Civic Park Senior Center, located at the following address:
15218 Farmington Rd
Livonia MI 48154
When Is It?
You may attend this event on Friday, July 31, 2015 from 10:30am to 12pm.
How Much Will It Cost?
This event costs $3 per person. You will not need to register in advance.
Who May I Contact?
Have questions? You may call the Senior Center at (734) 466-2555 for additional information.
ABOUT YOUR LIVONIA, MI DENTIST:
James Stewart, DDS, and our compassionate staff proudly serve patients of all ages from Livonia, Farmington Hills, Plymouth, Northville, Dearborn Heights, Garden City, and all surrounding communities. To schedule a consultation, call our office today at (734) 425-4400.